Strategies for successful recombinant expression of disulfide bond-dependent proteins in Escherichia coli
Microbial Cell Factories
2009
8:26
Received: 02 February 2009
Accepted: 14 May 2009
Published: 14 May 2009
Abstract
Bacteria are simple and cost effective hosts for producing recombinant proteins. However, their physiological features may limit their use for obtaining in native form proteins of some specific structural classes, such as for instance polypeptides that undergo extensive post-translational modifications. To some extent, also the production of proteins that depending on disulfide bridges for their stability has been considered difficult in E. coli.
Both eukaryotic and prokaryotic organisms keep their cytoplasm reduced and, consequently, disulfide bond formation is impaired in this subcellular compartment. Disulfide bridges can stabilize protein structure and are often present in high abundance in secreted proteins. In eukaryotic cells such bonds are formed in the oxidizing environment of endoplasmic reticulum during the export process. Bacteria do not possess a similar specialized subcellular compartment, but they have both export systems and enzymatic activities aimed at the formation and at the quality control of disulfide bonds in the oxidizing periplasm.
This article reviews the available strategies for exploiting the physiological mechanisms of bactera to produce properly folded disulfide-bonded proteins.
Keywords
Disulfide BondIsomeraseDomoic AcidRecombinant AntibodyLeader Peptide
Background
The success of recombinant protein expression in
E. coli
depends mainly on the capability of avoiding unproductive interactions of newly expressed polypeptides. Such interactions lead to aggregation of folding intermediates instead of yielding native proteins. The efficiency of the process can be increased by favoring conditions that stabilize folding intermediates and promote the formation of mature structure. Several strategies may help in preventing protein aggregation by masking hydrophobic patches on their external surfaces. These include the introduction of chaperone molecules, adding detergents, or co-expressing interacting sub-units of larger complexes. Once the conditions have been optimized for keeping the folding intermediates monodispersed, it becomes crucial to speed up the folding process to reach stable native structures and avoid the accumulation of metastable configurations that remain potentially prone to aggregation. Foldases and isomerases may strongly enhance the folding (Fig
1
).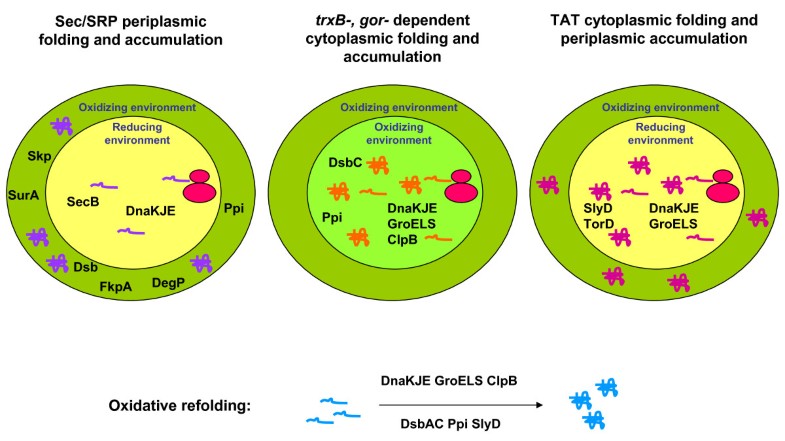 The attention of this review will be focused on the technically available solutions to improve the bacterial expression of proteins that rely on disulfide bond formation to reach their native state. Such cys-cys bridges block folding units into stable conformations by linking residues in a covalent manner and their formation is necessary for a protein to achieve its stable tertiary structure.
The equilibrium between reduced and oxidized cysteines is regulated by the redox conditions of each cell compartment. In eukaryotic cells, the oxidative environment in which disulfide bonds are preferentially formed is the endoplasmic reticulum (ER). Therefore, polypeptides expressed in the reducing cytoplasm need to be directed to ER to complete their folding. The correct targeting to the subcellular compartment is mediated by signal peptides fused to the protein amino terminus that are removed after the import into the organelle. Prokaryotes share with eukaryotic cells the reducing cytoplasm, but do not have structures resembling the ER. Instead of it, they possess an oxidizing periplasm to which pro-peptides with an extra N-term export peptide can be translocated. Therefore, eukaryotic protein expression in bacteria periplasm is possible following the substitution of the ER with a bacterial signal sequence for periplasm translocation.
Alternative strategies consider promoting the formation of disulfide bonds by targeting the nascent polypeptides to the external medium or by modifying the redox state of cytoplasm to reach a mild oxidative environment (Figure 1). Both overexpression and direct fusion to chaperones, foldases, and stabilizing carriers has been tested for improving the yields of functional target proteins.
Finally, protein aggregates can be first dissolved in chaotropic solutions to reach monodispersity and later be used as a starting material for oxidative refolding processes. A flowchart of the different alternatives is reported in Figure
2
.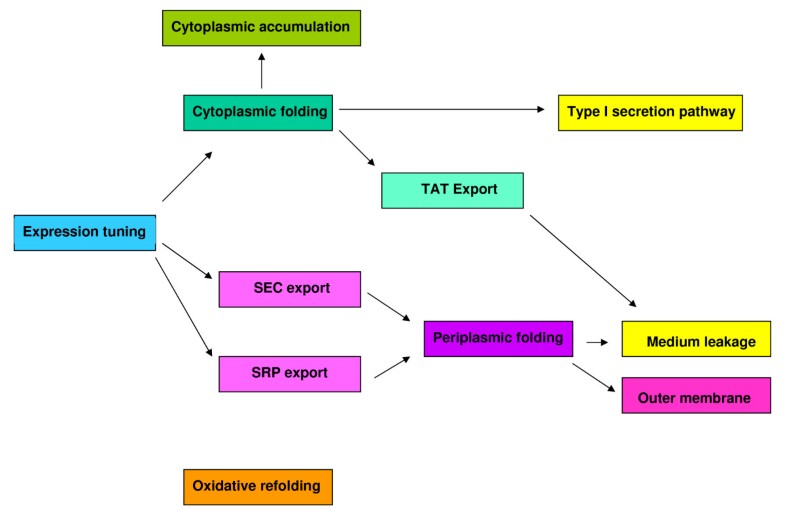 Periplasmic expression
The most intuitive method to exploit E. coli for recovering folded disulfide-bond dependent recombinant proteins is to direct the translated polypeptides to the bacterial periplasm. There are clear physiological reasons for such an approach: the periplasm, in contrast to the cytoplasm, is an oxidizing compartment and it hosts enzymes catalyzing disulfide bond formation and their isomerization, as well as specific chaperones and foldases [1–3]. However, the necessity of translocating nascent polypeptides through the inner membrane introduces a delicate step since there is only a limited number of available gates for reaching the periplasm and metastable precursors may consequently accumulate in the cytoplasm.
Cytoplasmic expression
Early observations indicated that the disulfide bridges in both β-lactamase and alkaline phosphatase precursors expressed in E. coli were formed only after their translocation and processing in the periplasm and that it was possible to prevent their oxidative folding by trapping the precursors in the cytoplasm [151, 152]. These results were explained by the presence of a reducing cytoplasm and an oxidizing periplasm in bacteria. Furthermore, they indicated that no protein requiring the formation of disulfide bonds for reaching its native structure can be produced in a functional form in the cytoplasm. The correlation between presence of disulfide bonds and native, functional structures was exploited by Beckwith and co-workers in their pioneering attempt to identify mutations that enabled the formation of active alkaline phosphatase in bacteria cytoplasm. It turned out that alkaline phosphatase folded correctly when expressed in bacteria hosting mutations that blocked the reduction of cysteines in the cytoplasm by silencing the activity of the thioredoxin reductase [153]. The preliminary model indicated that NADPH was the source of reducing potential used by thioredoxin reductase to reduce oxidized thioredoxin. However, the data suggested that another thioredoxin-like protein could be involved in a parallel reducing route. The search for complementary reducing mechanism(s) led to the identification of a second thioredoxin and of glutathione oxidoreductases, all involved in the mechanism aimed at reducing cytoplasmic cysteines [154, 155]. The apparent redundancy of the reducing machinery is probably due to the necessity of obtaining the maximal electron transfer efficiency between protein pairs with varying redox potentials [156]. Under physiological conditions the directionality of the electron flux is maintained. However, it was shown that thioredoxin acts as a reductase only when it remains constantly reduced by the thioredoxin reductase activity. In contrast, it can catalyze substrate oxidation when exported to periplasm and oxidized by DsbB [157, 158]. Also glutaredoxin 3 can catalyze disulfide bond formation in the periplasm, but its activity depends on oxidized glutathione availability rather than DsbB [159]. A similar process has been already demonstrated in eukaryotic cells [160] and its existence may also be hypothesed in the bacterial cytoplasm wherethe environment becomes oxidized as a consequence of impaired reducing activities.
Summarizing, it is possible to obtain an oxidizing cytoplasm in a cellular system in which glutaredoxin activity is abrogated by gor- mutation, and both thioredoxin 1 and 2 are kept oxidized as a consequence of thioredoxin reductase mutations (Figure 1). Reduced glutathione, necessary to preserve cell viability, is produced by the disulfide reductase activity of mutated peroxiredoxin AhpC [161, 162]. Interestingly, AhpC reductase activity does not significantly influence the oxidizing condition of the cytoplasm in trxB-, gor- cells [162]. Such observation prompted to investigate the biotechnological potential of both single (trxB-) and double (trxB-, gor-) mutant strains -now commercialized with the names of AD494 and Origami (Novagen), respectively- for the cytoplasmic expression of recombinant proteins with multiple disulfide bonds in their native structure. The encouraging data obtained in the first attempts [163] were further improved by combining cytoplasmic oxidation conditions and cytoplasmic accumulation of DsbC isomerase (Figure 1) [164].
Recently, a new expression strain has become available. SHuffle (New England BioLab) is trxB-, gor- as the commercial Origami (Novagen), but overexpresses cytoplasmic DsbC and is spectinomycin selectable, allowing the transformation with the majority of the currently used vectors. Although no literature is available so far, it is expected that the SHuffle combination of oxidizing conditions and isomerization capability would strongly improve the correct folding of disulfide bond-dependent proteins in the E. coli cytoplasm.
The method of expressing disulfide-bond-dependent proteins in oxidized cytoplasm was validated by several groups and progressively optimized. The collagen prolyl 4-hydrolases yield was higher in the cytoplasm of trxB-, gor- bacteria than in the periplasm of the corresponding BL21 wild type strain [165]. The oxidized cytoplasm allowed the accumulation of functional IgG-like extracellular domain receptor [166], Ig2 domain of neurolin [167], lipase B [168, 169], chitinase [170], and anti-freeze proteins [171]. Furthermore, the correct formation of disulfide bonds in the cytoplasmic milieu has been proved in recombinant oxalate oxidase [172], peanut allergen Ara h 2 [173], and Stereum purpureum endopolygalacturonase [174].
Conclusion
Often, when very heterogeneous molecules as the proteins are handled, it seems that the only possible approach towards optimization of the production process is the trial-and-error strategy. However, the comprehension of the physiological mechanisms involved in the protein folding and aggregation allowed for more rational solutions that simplified the selection of the conditions to be used in the trial panel (Figure 2).
Robust tools, such as oxidizing mutant strains or plasmids for the overexpression of chaperones and foldases, are now available and several successful expression alternatives have been described. There is still no certainty that a specific disulfide-bond dependent protein will be expressed in a functional form in bacteria, but a series of rational approaches can easily be compared. Once optimized the construct DNA sequence and the expression conditions, the main choice is between cytoplasmic and periplasmic folding and accumulation of the target protein. It will guide the selection of opportune leader sequences and suitable bacteria strains. Finally, the purification strategy will request further modification if the proteins are to be recovered from inclusion bodies, total lysate, periplasmic fractions, or culture medium.
At the end of this review, it becomes apparent that there is a large amount of information missing concerning the accurate description of the molecular mechanisms involved in protein folding, translocation and molecular quality control. There is also a huge gap between the theoretical knowledge and the results of protein production, as these are only sometimes in agreement with the hypothetical expectations and the apparent irrationality of some successful conditions may seem as if it were a "magical" activity. In contrast, what we are missing is a coherent system for the comparison of experimental data that remain anecdotal unless precisely annotated. Our understanding of why some conditions work in one case, but not in another, will substantially increase when a sufficient amount of homogeneous and comparable data will be available for bioinformatic analyses [290]. Data organization and their direct accessibility would help in extrapolating the information necessary to improve the identification of optimal strategies for each specific class of polypeptides. Therefore, the future collective endeavor should be addressed at rationalizing rather than accumulating data. One example to follow for future attempts might be the public repository Refold database http://refold.med.monash.edu.au/ that lists the successful methods for refolding of proteins [291].
Declarations
Acknowledgements
The author wishes to thank Alicja Gruszka for her critical review of the manuscript.
Authors' Affiliations
(1)
Cogentech, IFOM-IEO Campus for Oncogenomic, Milano, Italy
Copyright
© de Marco; licensee BioMed Central Ltd. 2009
This article is published under license to BioMed Central Ltd. This is an Open Access article distributed under the terms of the Creative Commons Attribution License (http://creativecommons.org/licenses/by/2.0), which permits unrestricted use, distribution, and reproduction in any medium, provided the original work is properly cited.