Lactobacilli-Host mutualism: "learning on the fly"
Microbial Cell Factories
2014
13(Suppl 1):S6
Published: 29 August 2014
Abstract
Metazoans establish with microorganisms complex interactions for their mutual benefits. Drosophila, which has already proven useful host model to study several aspects of innate immunity and host-bacteria pathogenic associations has become a powerful model to dissect the mechanisms behind mutualistic host-microbe interactions. Drosophila microbiota is composed of simple and aerotolerant bacterial communities mostly composed of Lactobacillaceae and Acetobactereaceae. Drosophila mono- or poly-associated with lactobacilli strains constitutes a powerful model to dissect the complex interplay between lactobacilli and host biologic traits. Thanks to the genetic tractability of both Drosophila and lactobacilli this association model offers a great opportunity to reveal the underlying molecular mechanisms. Here, we review our current knowledge about how the Drosophila model is helping our understanding of how lactobacilli shapes host biology.
Keywords
Microbiota Lactobacillus Drosophila Mutualism
Introduction
Metazoans establish with microorganisms complex interactions for their mutual benefits. When the host-bacteria system is in balance or homeostasis, it can contribute for many aspects of host physiology [1]. As an example, the gut bacterial communities or microbiota improve the digestion of nutrients and provide new metabolic functions to their host. They also contribute to the education and stimulation of the immune system and are responsible for colonization resistance against pathogens [2]. On the bacterial side, host is furnishing a niche with accessibility to substrates either exogenous from food or endogenous from mucus. However, when the tight balance between host and microbiota is broken it can result in the development of certain pathologies [1].
Over the last 15 years, the composition of the gut microbiota has been explored by culture-independent techniques [
3
] and further described by metagenomic analysis [
4
,
5
]. Analyses of the gene encoding 16S rRNA by pyrosequencing have identified up to ten phyla represented in microbiota. At a lower taxonomic level, up to a thousand species are generally present in one individual. Metagenomic analysis has revealed, within the inter-individual variation, the presence of less than sixty species shared among human individuals [
5
]. The relative proportion of each species is influenced by environmental and host factors [
6
]. Despite the ongoing interest on the gut microbiota, the mechanisms behind the interactions between host and microbes remain to be better understood. This comprehension is hampered by the complexity and variability of the bacterial communities involved in mammalian host-microbe interactions. In addition, most of the bacteria of the human gastrointestinal tract have not yet been cultured
ex-vivo
, due in part to their anaerobic metabolism or sensitivity to oxygen; those that have been cultured require laborious techniques [
7
]. Thus, the use of simpler animal models may help to unravel evolutionary conserved mechanisms underlying the impact of intestinal bacterial in their host physiology. In this light,
Drosophila
, which has already proven useful in the study of several aspects of innate immunity and host-bacteria pathogenic associations [
8
], has become a powerful model to dissect the mechanisms behind mutualistic host-microbe interactions (Figure
1
) [
9
,
10
].
Drosophila
combines genetic and experimental tractability with a culturable microbiota of low diversity that facilitates microbial genetic analysis.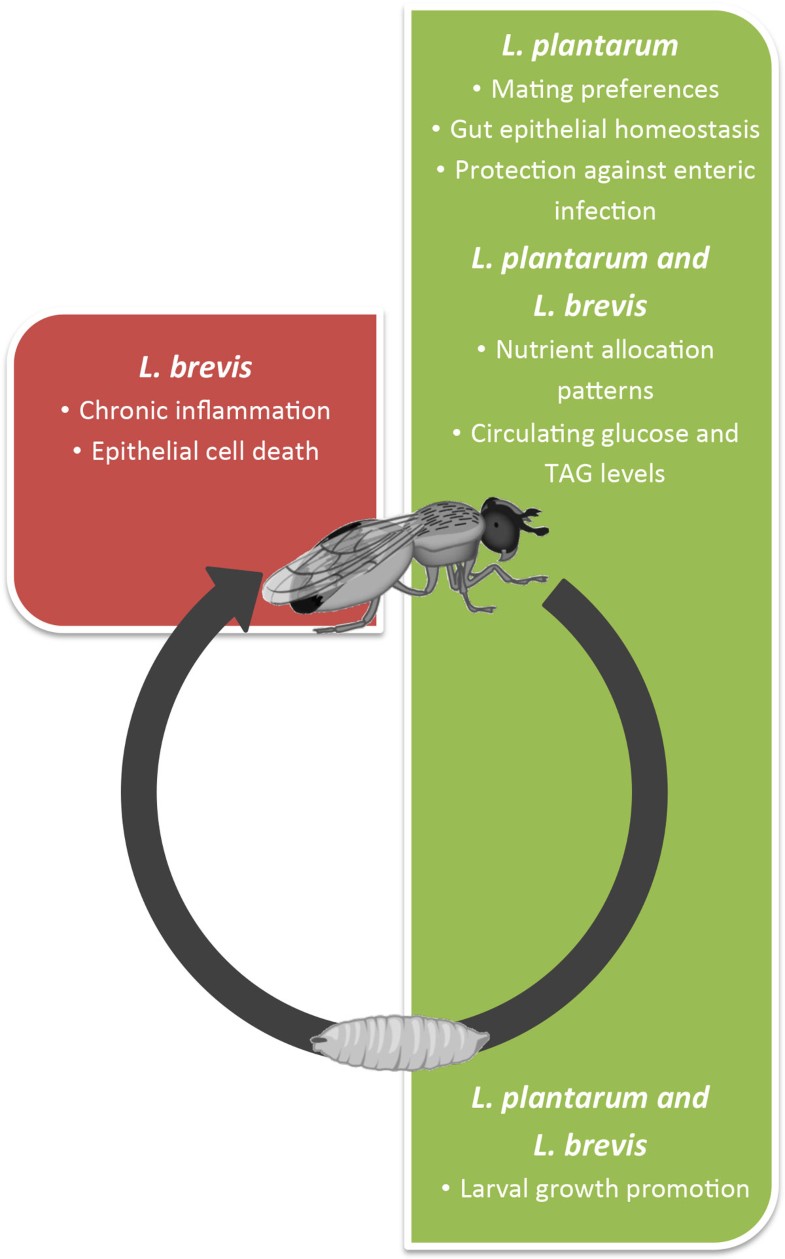 Drosophila gut microbiota composition: high prevalence of lactobacilli
Several studies have determined the composition of Drosophila gut commensal bacterial communities and the factors that shape their diversity and relative abundance. Overall Drosophila microbiota is composed of simple bacterial communities represented by the phyla Firmicutes (Lactobacillaceae and Enterococcaceae) and Proteobacteria (Acetobactereaceae and Enterobactereaceae) with five dominating species: Acetobacter pomorum, A. tropicalis, Lactobacillus brevis, L. plantarum and L. fructivorans [11, 12]. With the exception of Acetobactereaceae, these species are also commensals in humans [5]. Strains of Gluconobacter morbifer and more recently L. brevis were identified as Drosophila pathogens that under certain circumstances can act as a colitogenic pathobionts due to their ability to constantly release uracil [11, 13]. Uracil release by pathogenic bacteria and certain opportunistic pathobionts was identified as the ligand inducing DUOX-dependent reactive oxygen species generation in Drosophila's gut, which is required for the efficient elimination of bacteria but also causes inflammation and cell death. In the case of these opportunistic pathobionts, the permanent release of uracil and subsequent DUOX activation leads to chronic inflammation [13].
Studies to determine Drosophila gut microbiota composition were carried out in whole flies or dissected guts from laboratory-raised and wild-caught flies. The diversity was determined using both culturable-dependent and culture-independent techniques such as amplification and sequencing of microbial 16S rRNA. Globally they report that Drosophila gut bacterial communities are sensitive to variations on diet, developmental stage and host immune status [11, 12, 14, 15].
Clearly, the most important factor shaping Drosophila's gut microbiota is the diet. Corby-Harris investigated community richness and composition of 11 fly populations recovered from different latitudes. Although the authors observed significant spatial variation in microbial community richness they could not find a clear relationship between latitude or climate and microbial richness [16]. Likewise, the analysis of natural bacterial communities associated with different species of Drosophila collected from distant geographical locations revealed that the gut microbiota composition of different species feeding on the same type of substrates were more similar to each other then to more closely related species feeding on different substrates [14, 17]. In those studies the differences in microbial content were attributed to food composition. Supporting these observations, it was shown that increasing the carbohydrate to protein ratio in the medium enhances the proportion of Acetobacter versus Lactobacillus in young adult flies [12, 18] and that changes on diet such as high-fat or short- term starvation have drastic and long-lasting effects on the microbiota [19]. Although the major represented groups detected in laboratory-raised flies were found to be present in most of wild Drosophila populations, lab-reared flies and wild-caught flies diverge in their microbiota composition. Moreover, bacterial communities associated with lab-reared flies are striking less diverse than those of wild-caught flies. Thus, so far, it was not possible to define a group of microorganisms consistently recovered from Drosophila that we could call a core microbiota [14, 15, 17]. Nevertheless it is reasonable to think that taxonomically variable bacterial communities can be functionally equivalent and instead of a core microbiota, Drosophila would sustain a core microbiome.
Other factors shaping Drosophila's gut microbiota composition are developmental status and aging. Indeed, a case study from the Douglas' lab indicated that despite bacterial species presence all along Drosophila's life cycle, their abundance varies with developmental age. During larval growth the dominant species in the fly line they studied changes from L. fructivorans to L. plantarum. In the same line, at pupal stages A. tropicalis was the most represented species while in young adults, L. fructivorans became dominant again and in old adults A. pomorum was the dominant species in the community [12]. It has been suggested that the gut oxidative status could be driving species predominance during Drosophila's life cycle favouring either aerobic or aerotolerant bacteria growth or it may reflect different nutritional needs and immune performances [9, 12]. In fact, old flies have their bacterial loads increased, which has been associated to age-related decrease in the efficiency of immune responses [20, 21]. However the global composition and abundance of the gut microbiota in Drosophila is extremely variable among different laboratories and among Drosophila adults within the same line [17], so this issue yet deserves further investigation. Finally, host genetic determinants can also impact the density and composition of gut bacterial communities, as has been demonstrated by Ryu and colleagues [11]: flies with higher antimicrobial peptides production due to a mutation on the homeobox gene Caudal (Cad) show a shift in community composition from the commensal bacteria Commensalibacter intestini to a minor member of Drosophila's gut, Gluconobacter morbifer, recognized as a pathobiont.
Despite the numerous studies on Drosophila's gut microbiota composition and the general agreement of the community in that the most represented species are member of the genus Lactobacillus and Acetobacter, their global composition and abundance remains extremely variable among wild-caught and lab-raised flies as well as between and within different laboratories over time [17]. Moreover, a recent study by Blum and colleagues determine how Drosophila's gut microbiota is established and maintained. They evaluate bacterial communities of newly emerged flies transferred to fresh food daily for 3 days or kept in the same food for 7 days and realise that flies that were not transferred harboured larger bacterial populations than those that were transferred. In this way they confirmed that Drosophila need to consume bacteria from the environment in order to establish and maintain its microbiota, which indicate that bacteria do not persist long in Drosophila's gut [22]. These two aspects should be taken into account when working with Drosophila since they can have an impact on observed phenotypes.
As mentioned before, lactobacilli are prevalent commensals of Drosophila melanogaster similarly to mammals including humans. In Drosophila, they reside in the intestine and are vertically transmitted to progenies via the deposition of contaminated mother's faeces on the surface of the embryo during egg laying and on the surrounding substratum. Many strains of different lactobacilli species (L. plantarum, L. brevis, L. fructivorans) can colonize germ-free animals and remained associated to their host during its entire life cycle by constant re- association through ingestion. In addition to being commensal species of Drosophila melanogaster intestine, lactobacilli have been used for decades as a model lactic acid bacteria and therefore offers vast technical resources and potential [23]. Therefore the approach of using lactobacilli and an animal host model such as Drosophila with evolutionary conserved genetic and physiological features to study intestinal host-microbe interactions is well suited to unravel lactobacilli/host interactions encountered in the wild potentially including those occurring in humans.
Functional impact of lactobacilli on Drosophila biology
Conclusions
Drosophila melanogaster has emerged as a powerful model to study host-gut microbiota mutualism given the simplicity and low-complexity of its microbial communities and the ease to generate and maintain gnotobiotic animals. Drosophila mono- or poly-associated with lactobacilli strains under certain nutritional conditions constitutes a powerful model to dissect the complex interplay between diet, bacteria and host biologic traits and thanks to the genetic tractability of both Drosophila and lactobacilli this model offers a great opportunity to reveal the underlying molecular mechanisms. Given its contribution to unravel TOR and IIS pathways involvement in Lactobacillus plantarum mediated growth promotion, this model will also help dissecting if and how other lactobacilli strains, including available probiotic strains promote juvenile growth and/or influence host metabolism paving the way to the use, the identification or the design of next generation evidence-based probiotic strains. In addition, given its pioneer role in the study of the fundamental roots of innate immunity and host/pathogen interactions [8], the Drosophila model may also offer opportunities to study the interplay between lactobacilli, metabolism and the innate immune system. Finally, studies on the Drosophila microbiota/gut/brain axis [36] and its impact on host behaviour [24, 25] offer exciting and refreshing perspectives to the lactobacilli/Host interaction field.
List of abbreviations
rRNA:

ribosomal ribonucleic acid
CMY:

cornmeal-molasse-yeast
ISC:

intestinal stem cell
ROS:

reactive oxygen species
TAG:

triglyceride
IIS:

insulin/insulin-like growth factor signalling
PQQ-ADH:

pyrroloquinonoline quinone-dependent alcohol dehydrogenase
TOR:

target of rapamycin
dILPs:

insulin-like peptides.
Declarations
Acknowledgements
RCM thanks the "Fondation pour la Recherche Médicale" for financial support through a postdoctoral scholarship SPF20140129318. Research in FL's lab is supported by an ERC starting grant (FP7/2007-2013-N°309704) and is sponsored by the ATIP/AVENIR program, the FINOVI foundation, and the "Fondation Schlumberger pour l'Education et la Recherche soutenue par la FRM".
This article has been published as part of Microbial Cell Factories Volume 13 Supplement 1, 2014: Proceedings of the 11th International Symposium on Lactic Acid Bacteria. The full contents of the supplement are available online at http://www.microbialcellfactories.com/supplements/13/S1. Publication charges for this supplement were funded by the Stichting Symposium on Lactic Acid Bacteria. The articles have undergone the journal's standard peer review process for supplements. EJ is employed by Chr Hansen A/S, is a shareholder in Chr Hansen A/S; and has applied for patents relating to the content of an article which he did not edit but which forms part of this supplement. MK is an employee of Nizo. The other Supplement Editors declare that they have no competing interests.
Authors' Affiliations
(1)
Institut de Génomique Fonctionnelle de Lyon (IGFL), Ecole Normale Supérieure de Lyon, CNRS UMR 5242, Université Claude Bernard Lyon 1, Lyon, France
Copyright
© Matos and Leulier; licensee BioMed Central Ltd. 2014
This article is published under license to BioMed Central Ltd. This is an Open Access article distributed under the terms of the Creative Commons Attribution License (http://creativecommons.org/licenses/by/4.0), which permits unrestricted use, distribution, and reproduction in any medium, provided the original work is properly cited. The Creative Commons Public Domain Dedication waiver (http://creativecommons.org/publicdomain/zero/1.0/) applies to the data made available in this article, unless otherwise stated.