Elucidation of intrinsic biosynthesis yields using 13C-based metabolism analysis
Microbial Cell Factories
2014
13:42
Received: 23 December 2013
Accepted: 12 March 2014
Published: 19 March 2014
Abstract
This paper discusses the use of 13C-based metabolism analysis for the assessment of intrinsic product yields — the actual carbon contribution from a single carbon substrate to the final product via a specific biosynthesis route — in the following four cases. First, undefined nutrients (such as yeast extract) in fermentation may contribute significantly to product synthesis, which can be quantified through an isotopic dilution method. Second, product and biomass synthesis may be dependent on the co-metabolism of multiple-carbon sources. 13C labeling experiments can track the fate of each carbon substrate in the cell metabolism and identify which substrate plays a main role in product synthesis. Third, 13C labeling can validate and quantify the contribution of the engineered pathway (versus the native pathway) to the product synthesis. Fourth, the loss of catabolic energy due to cell maintenance (energy used for functions other than production of new cell components) and low P/O ratio (Phosphate/Oxygen Ratio) significantly reduces product yields. Therefore, 13C-metabolic flux analysis is needed to assess the influence of suboptimal energy metabolism on microbial productivity, and determine how ATP/NAD(P)H are partitioned among various cellular functions. Since product yield is a major determining factor in the commercialization of a microbial cell factory, we foresee that 13C-isotopic labeling experiments, even without performing extensive flux calculations, can play a valuable role in the development and verification of microbial cell factories.
Keywords
Cell maintenanceCo-metabolismMetabolic flux analysisP/O ratioYeast extract
Introduction
Recent advances in metabolic engineering have enabled us to engineer microbial cell factories for the efficient synthesis of diverse products, including bulk chemicals, pharmaceutical drugs and biofuels [
1
,
2
]. For example, advanced biofuels produced by engineered microorganisms with properties similar to that of petroleum-based fuels, have been reported extensively [
3
–
7
]. The emergence of systems biology and synthetic biology has greatly increased the potential of microbial cell factories towards the production of value-added chemicals [
8
–
10
]. For economically viable manufacture of bulk and commodity chemicals [
11
], the product yield is an important consideration. Researchers often include either rich medium or multiple feedstocks in microbial fermentations. Thereby, estimation of the intrinsic product yield is difficult since undefined nutrients may also contribute to the product synthesis (Figure
1
). Additionally, new enzymes are often employed to improve microbial productivity [
4
,
12
–
14
], and the separate contributions of the heterologous and native pathways to product synthesis needs further validation. Finally, the synthesis of high-energy products (such as biofuels) requires a large amount of ATP and NAD(P)H. Due to suboptimal energy metabolism (e.g., cell maintenance cost), the actual bacterial biosynthesis is often at least three-fold lower than the amount that would be predicted from reaction stoichiometry [
15
].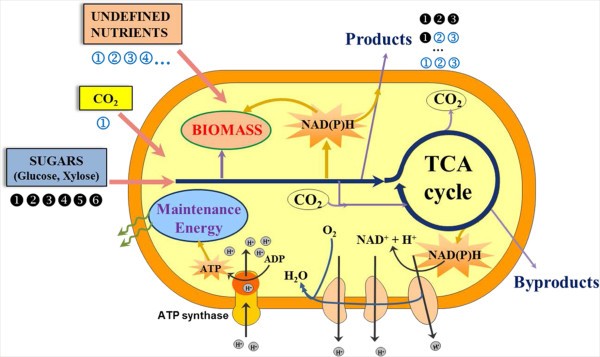 Therefore, 13C-analysis is the recommended method to track the in vivo carbon fluxes from specific substrates to final products. Feeding microbial cultures with 13C-substrates results in unique isotopic patterns amongst the cell metabolites (13C-fingerprints) [16] to delineate metabolic pathways [17]. Integration of 13C-fingerprints with metabolic modeling can elucidate the intracellular metabolic fluxes (i.e., 13C-MFA). In the biotechnology field, 13C-MFA can reveal metabolic responses of microbial hosts to product synthesis and growth conditions [18–20], identify the rigid metabolic nodes that cause bottlenecks for further rational pathway engineering [21], and perform characterization of novel microbial physiologies [22–25]. In addition to these applications, 13C-MFA may reveal the effect of suboptimal energy metabolism on intrinsic product yields.
Conclusions
Product yield is one of the main considerations of microbial cell factories [54]. Microbial productivity is not only associated with the efficiency of biosynthesis enzymes, but is also intertwined with the energy metabolism [55]. Simple 13C analysis can characterize the hosts' intrinsic production yields under different carbon sources, and determine the contributions of the different pathways to biosynthesis. In addition, 13C-MFA can profile microbial fluxomes and determine the amount of extra substrates that the cell consumes to compensate for ATP losses from diverse cellular processes, which is essential to understand metabolic capability of a microbial host for maximal product yields. In the end, 13C-analysis, using the labeled product as internal standards, can also be employed to correct product measurement noises in fermentation processes due to water loss, product evaporation or degradation [56]. This review paper aims to emphasize the indispensable value of 13C-labeling techniques to the metabolic engineering field as we foresee an extended use of 13C-experiments for the development of microbial cell factories.
Declarations
Acknowledgement
We thank Prof. Maciek Antoniewicz from University of Delaware for his advice. The authors also thank Katrina Leyden for her close reading of this manuscript. This work was supported in parts by the funding from National Science Foundation (MCB0954016) and the Bridge Funding from Washington University in St. Louis.
Authors' Affiliations
(1)
Department of Energy, Environmental and Chemical Engineering, Washington University, St. Louis, USA
Copyright
© Varman et al.; licensee BioMed Central Ltd. 2014
This article is published under license to BioMed Central Ltd. This is an Open Access article distributed under the terms of the Creative Commons Attribution License (http://creativecommons.org/licenses/by/2.0), which permits unrestricted use, distribution, and reproduction in any medium, provided the original work is properly credited. The Creative Commons Public Domain Dedication waiver (http://creativecommons.org/publicdomain/zero/1.0/) applies to the data made available in this article, unless otherwise stated.