Delayed formation of zero-valent selenium nanoparticles by Bacillus mycoides SeITE01 as a consequence of selenite reduction under aerobic conditions
Microbial Cell Factories
2014
13:35
Received: 21 October 2013
Accepted: 19 February 2014
Published: 7 March 2014
Abstract
Background
Selenite (SeO3 2−) oxyanion shows severe toxicity to biota. Different bacterial strains exist that are capable of reducing SeO3 2− to non-toxic elemental selenium (Se0), with the formation of Se nanoparticles (SeNPs). These SeNPs might be exploited for technological applications due to their physico-chemical and biological characteristics. The present paper discusses the reduction of selenite to SeNPs by a strain of Bacillus sp., SeITE01, isolated from the rhizosphere of the Se-hyperaccumulator legume Astragalus bisulcatus.
Results
Use of 16S rRNA and GyrB gene sequence analysis positioned SeITE01 phylogenetically close to B. mycoides. On agarized medium, this strain showed rhizoid growth whilst, in liquid cultures, it was capable of reducing 0.5 and 2.0 mM SeO3 2− within 12 and 24 hours, respectively. The resultant Se0 aggregated to form nanoparticles and the amount of Se0 measured was equivalent to the amount of selenium originally added as selenite to the growth medium. A delay of more than 24 hours was observed between the depletion of SeO3 2 and the detection of SeNPs. Nearly spherical-shaped SeNPs were mostly found in the extracellular environment whilst rarely in the cytoplasmic compartment. Size of SeNPs ranged from 50 to 400 nm in diameter, with dimensions greatly influenced by the incubation times. Different SeITE01 protein fractions were assayed for SeO3 2− reductase capability, revealing that enzymatic activity was mainly associated with the membrane fraction. Reduction of SeO3 2− was also detected in the supernatant of bacterial cultures upon NADH addition.
Conclusions
The selenite reducing bacterial strain SeITE01 was attributed to the species Bacillus mycoides on the basis of phenotypic and molecular traits. Under aerobic conditions, the formation of SeNPs were observed both extracellularly or intracellullarly. Possible mechanisms of Se0 precipitation and SeNPs assembly are suggested. SeO3 2− is proposed to be enzimatically reduced to Se0 through redox reactions by proteins released from bacterial cells. Sulfhydryl groups on peptides excreted outside the cells may also react directly with selenite. Furthermore, membrane reductases and the intracellular synthesis of low molecular weight thiols such as bacillithiols may also play a role in SeO3 2− reduction. Formation of SeNPs seems to be the result of an Ostwald ripening mechanism.
Keywords
Bacillithiol Bacillus mycoides SeITE01Extracellular precipitationIntracellular depositionOstwald ripening mechanismRedox regulationSelenite reductionTEM analysisXenobiotic detoxificationZero-valent selenium nanoparticles
Background
Although selenium can be considered an essential micronutrient for living systems at low concentrations, it becomes toxic at greater doses and the range between dietary deficiency (< 40 μg day−1) and excess (> 400 μg day−1) is fairly narrow [1]. Selenium generally occurs in relatively low amounts in geological raw materials (e.g. native rocks and ores), soils and sediments, but its contents in coals and crude oils can reach hundreds of mg kg−1 in certain cases [2]. Concentrations in soils and sediments vary geographically, depending on the parent rock, ranging from 0.01 mg kg−1 in deficient areas to 1200 mg kg−1 in organic rich soils in toxic areas [3]. Therefore, selenium contamination represents an important public health concern and requires remediation initiatives especially in those geographic locations where agricultural irrigation drainage waters transport significant amounts of Se by leaching seleniferous soils. Furthermore, industrial activities such as oil refining, phosphate and metal ore mining and coal fire-based power production can all contribute to the dispersion of selenium in the environment. Se is also used extensively in both the electronics and glass industry and is added to animal feeds and food supplements. Other applications are in photocopying, in metal alloys for batteries, in vulcanized rubber manufacturing, in production of pigments, ceramics, plastics and lubricants, and in formulation of specific commodities such as anti-dandruff shampoos [4]; all of which ensure possible routes for the mobilization of selenium in the biosphere. Selenium occurs in four valence states: selenate (Se6+), selenite (Se4+), selenide (Se2−), and elemental selenium (Se0), and can form compounds with oxygen, sulfur, metals, and/or halogens [5]. The environmental fate and the toxicity of selenium strongly depend on its chemical speciation, with water soluble, oxidized forms (oxyanions) selenite (SeO3 2−) and selenate (SeO4 2−) showing severe toxicity to biota [5, 6]. Microorganisms play a major role in the biogeochemical cycle of selenium in the environment [7]. Certain strains, that are resistant to selenium oxyanions and reduce selenite and/or selenate to the less available elemental selenium or to methylated Se forms [8], may be potentially used for the bioremediation of contaminated soils, sediments, industrial effluents, and agricultural drainage waters. It is worth noting that a large number of bacterial species, residing in diverse terrestrial and aquatic environments, possess the ability to reduce selenite and selenate into elemental selenium. This can occur through both enzymatic or non enzymatic mechanisms, leading to the formation of Se nanostructured particles (SeNPs) which are deposited inside the cell (cytoplasmic), within the periplasm or extracellularly [9–14]. Evidence exists that the microbial reduction of selenite occurs under both anaerobic and aerobic conditions. However, to date, anaerobic respiration is considered the most likely mechanism for selenite transformation to Se0 by means of dissimilative metabolism [15–18]. Anaerobic respiration of selenite has also been shown to involve selenite and/or selenate reductases, nitrite reductases and sulfite reductases [11, 18–20]. Furthermore, the involvement of thiol-containing proteins such as glutathione has even been identified in some Gram negative bacteria capable of anaerobic reduction of Se03 2− to amorphous Se0 nanoparticles [21].
These particular SeNPs display special physical characteristics such as photoelectric, semiconducting and X-ray-sensing properties [22] which make them attractive for possible nano-technological applications. They also possess adsorptive ability, antioxidant functions and due to their high surface area-to-volume ratio, a marked biological reactivity [23]; including anti-hydroxyl radical efficacy, a protective effect against DNA oxidation [24] and anti-microbial activity. Indeed, SeNPs have been found to strongly inhibit growth of Staphylococcus aureus, a key bacterial pathogen commonly occurring in human infections [25]. However, concern is now growing for the environmental impact of nanoparticle synthesis based on physico-chemical methods that require for high pressures and temperatures, are energy consuming, use toxic chemicals, and generate hazardous by-products. Consequently, applications using biological systems such as microbial cultures for the production of metal nanoparticles, including SeNPs, are becoming increasingly a realistic perspective. In the present paper the reduction of selenite by a strain of Bacillus sp. (previously classified as Bacillus mycoides SeITE01 [26]) has been investigated. This strain has been shown to be highly resistant to selenite (up to 25 mM) and able to transform this oxyanion into elemental SeNPs. In particular, a detailed comparison is given between the dynamics of disappearance of selenite from the growth medium and the appearance of SeNPs. Evidence is also provided for the SeNPs formation to be mainly in the extracellular environment. Based on the findings of microscopic analyses, coupled with biochemical and metabolic assays, hypotheses are advanced about possible mechanisms of reduction of selenite by B. mycoides SeITE01, compatible with the appearance of Se0 nanoparticles both inside or outside the bacterial cell.
Conclusions
In conclusion, the bacterial strain SeITE01 isolated from the rhizosphere of the selenium hyperaccumulator legume
Astragalus bisulcatus
grown in a Se contaminated soil has been taxonomically attributed to the species
Bacillus mycoides
on the basis of phenotypic and molecular traits. It has the ability to induce the formation of amorphous Se
0
nanoparticles under aerobic conditions as a consequence of the reduction of selenite. Not only extracellular but also intracellular elemental selenium production was detected, although accumulation of SeNPs was mostly observed outside the bacterial cell. The size of SeNPs was dependent on the incubation times, showing a direct relationship between incubation time and the nanoparticle size. Increasing the incubation time increases the size of SeNPs observed. Based on the results, a tentative explanation for the process of SeNPs formation can be given (Figure
9
). It is proposed that SeO
3
2−
ions are reduced into Se
0
by the concourse of enzymatic proteins released by the bacterium and may also react directly with sulfhydryl groups on thiols of peptides released by
Bacillus
cells. Furthermore, membrane reductases may play a role in SeO
3
2−
reduction. Selenite ions once reduced form Se nuclei which, subsequently, grow into the large SeNPs by further reduction of SeO
3
2−
ions and an aggregation of these Se atoms, involving an Ostwald ripening mechanism [
24
]. Small SeNPs are then consumed for the growth of larger ones according to the Gibbs–Thomson Law [
53
]. As mentioned previously, SeITE01 cultures grown in the presence of selenite demonstrated the presence – although sporadic – of spherical intracellular deposits of SeNPs by TEM analysis. In this regard, bacillithiol (BSH) has been identified as a major low-molecular-weight (LMW) thiol playing a significant role in the cytosolic thiol redox chemistry of low G + C Gram-positive bacteria such
Bacillus
sp., concomitantly with the functions of other LMW thiols (e.g. cysteine residues) or Trx/TrxRed pathways [
54
]. BSH-synthesizing bacteria may contain enzymes analogous to those found in GSH-containing bacterial species, with bacilliredoxin (Brx) instead of glutaredoxin (Grx). Although the reductase system capable of maintaining BSH in the reduced state is not fully understood so far in
Bacillus
sp., the involvement of Brx-like proteins in a pathway analogous to that observed with GSH in Gram-negative bacteria may therefore be claimed in the strain SeITE01 for a complementary detoxification of selenite through reduction to Se
0
with later intracellular precipitation in form of SeNPs [
55
,
56
]. Finally, although the formation of a selenium intermediate is only presumptive in this study, it has been previously suggested [
14
,
21
,
39
,
40
] as discussed above. Therefore, additional studies have to be made to identify the possible intermediates in
Bacillus mycoides
SeITE01.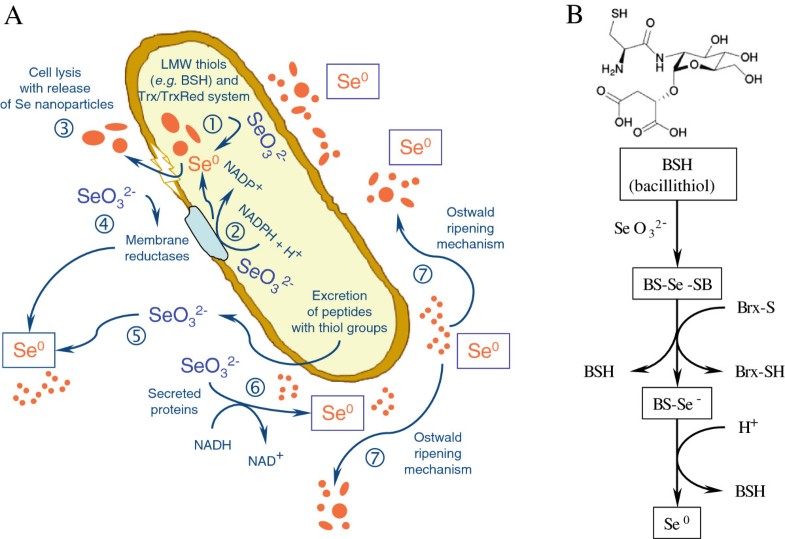 Declarations
Acknowledgements
The financial support of the Hungarian-Italian intergovernmental scientific and technological cooperation program (TET_10-1-2011-0173 and PGR_00086-2011) is gratefully acknowledged.
Authors' Affiliations
(1)
Department of Biotechnology, University of Verona, Verona, Italy
(2)
Department of Neurological and Movement Sciences, >Piazzale L. A. Scuro, Verona, Italy
(3)
Biosciences, College of Life and Environmental Sciences, University of Exeter, Exeter, UK
Copyright
© Lampis et al.; licensee BioMed Central Ltd. 2014
This article is published under license to BioMed Central Ltd. This is an Open Access article distributed under the terms of the Creative Commons Attribution License (http://creativecommons.org/licenses/by/2.0), which permits unrestricted use, distribution, and reproduction in any medium, provided the original work is properly credited. The Creative Commons Public Domain Dedication waiver (http://creativecommons.org/publicdomain/zero/1.0/) applies to the data made available in this article, unless otherwise stated.