Strategies for the multiplex mapping of genes to traits
Microbial Cell Factories
2013
12:99
Received: 28 June 2013
Accepted: 20 October 2013
Published: 30 October 2013
Abstract
Rewiring and optimization of metabolic networks to enable the production of commercially valuable chemicals is a central goal of metabolic engineering. This prospect is challenged by the complexity of metabolic networks, lack of complete knowledge of gene function(s), and the vast combinatorial genotype space that is available for exploration and optimization. Various approaches have thus been developed to aid in the efficient identification of genes that contribute to a variety of different phenotypes, allowing more rapid design and engineering of traits desired for industrial applications. This review will highlight recent technologies that have enhanced capabilities to map genotype-phenotype relationships on a genome wide scale and emphasize how such approaches enable more efficient design and engineering of complex phenotypes.
Keywords
Genomic vector librariesMultiplexed recombineeringTransposon saturation mutagenesisWhole-genome sequencing
Introduction
Optimizing microbial metabolism for the production of commercially valuable chemicals such as biofuels, chemicals and therapeutics is a central aim of metabolic engineering. This aim is typically approached by altering native metabolic networks to promote flux through desired metabolic pathways while minimizing the buildup of potentially toxic intermediates and the formation of undesired byproducts. Towards this end, a variety of rational engineering approaches have been successfully applied. For example, the introduction of non-native pathways to promote product formation [1], the over-expression of native biosynthetic enzymes [2], the removal of regulatory repression [3], and modifications made to increase precursor metabolite supply [4] have all proven effective for improving product yields. Such rational modifications however require significant a priori knowledge of the pathways in question [5, 6]. In many cases this knowledge is incomplete, particularly for complex phenotypes that require an intricate balance between the activities of many seemingly unrelated gene products.
In contrast to rational engineering approaches, "inverse" metabolic engineering approaches employ directed evolution to rapidly explore large adaptive landscapes in search of beneficial mutations [
7
,
8
]. Traditional genome engineering methods such as chemical mutagenesis or genome shuffling [
9
] however generate mutations in a random and combinatorial fashion and require extensive sequencing and characterization to assess genotype-phenotype correlations and distinguish between adaptive mutations and neutral or maladaptive hitch-hiking mutations [
10
,
11
]. The immense combinatorial sequence space of even a modest genome size (~4
4,000,000
) for the
Escherichia coli
genome) requires more rational search strategies that can identify genes or gene networks that promote the desired phenotype in laboratory timescales (Figure
1
). Such information, can then be leveraged to guide an exploitative combinatorial optimization of the most relevant genes [
12
], akin to the use of structural and evolutionary information to guide site saturation mutagenesis for protein engineering [
13
]. The development of platform technologies that enable genome wide mapping of genes to traits has thus been a central challenge for the development of more efficient strain engineering.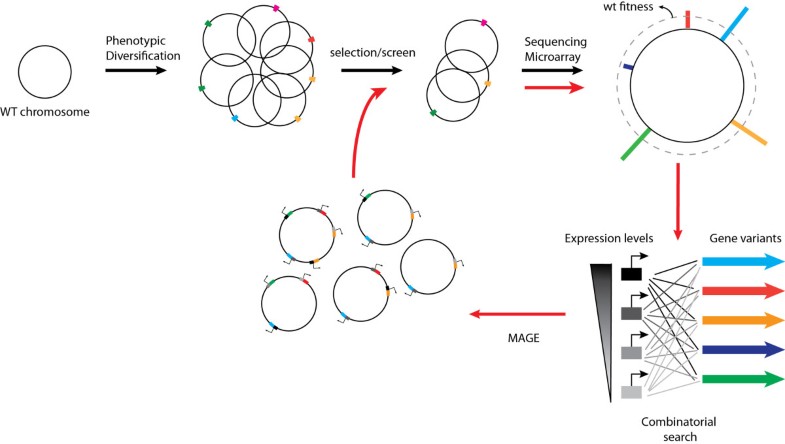 A variety of techniques have been recently developed to address these challenges and enable targeted approaches to genome wide modification and tracking of genotype fitness that are ultimately aimed at speeding up the genome engineering cycle (Figure 1) [7, 8, 14]. These multiplex "forward" genomics approaches are founded on fundamental technological advances in both DNA sequencing and microarray based DNA detection methods that allow quantitative tracking of the concentration of different genotypes in a large population [8, 12, 14]. Additionally, recent advances in multiplexed DNA synthesis [15] and the ability to rationally modify bacterial and eukaryotic chromosomes using homologous recombination have enabled the production of genome scale libraries with characteristics that are more suitable for the short read sequencing and array based detection [16–21]. This review will focus on approaches to genome wide mapping of genotype-phenotype relationships and discuss how such methods are being applied to advance a basic understanding of and ability to design and engineer complex phenotypes.
Conclusions
To the benefit of basic and applied research alike, genome wide tracking technologies have significantly enhanced the throughput with which genotype- phenotype relationships can be investigated. Approaches such as TRMR [21] and SCALEs [25] for example can produce high resolution fitness maps covering the entire E. coli genome and have aided in uncovering genes implicated in a variety of industrially relevant traits with rapid turnover times. Recent efforts have been made to combine TRMR with combinatorial engineering strategies similar to MAGE [16] promise to significantly increase throughput of strain engineering programs (Figure 1) [29]. This study however highlighted the importance of epistatic interactions as many of the colonies isolated after combinatorial engineering contained only singly mutated ribosome binding sites as well as the need for technologies to more deeply analyze populations that have been engineered by multiplexed approaches.
The techniques described here will need to be improved such that multigenic traits can be characterized in parallel and the engineering cycle can be performed recursively. Recent progress towards more effective combinatorial tracking has been made using synthetic RNA based regulatory devices that enable multiplexed, sequence-specific gene control from single plasmid [85]. Similar approaches could also be readily envisioned using the recently described CRISPR system in which nuclease inactive cas9 was demonstrated to provide inducible transcription repression based solely on the sequence of a synthetic guide RNA [86]. Sequence specified combinatorial libraries that sample different genes at varying expression levels in these systems therefore offer an exciting opportunity to more quickly survey adaptive landscapes in search of more optimal engineering solutions. Combinatorial tracking approaches also offer the promise of new sources of epistasis in the complex genetic networks of living organisms. Techniques such as expression profiling and WGS will also continue to provide complementary tools that enhance our knowledge of complex phenotypes and, importantly, our ability to engineer new and useful traits.
Authors' Affiliations
(1)
Department of Chemical and Biological Engineering, University of Colorado, Boulder, USA
(2)
Biomedical Engineering, Pratt School of Engineering, Duke University, Durham, USA
(3)
OPX Biotechnologies, Inc., Boulder, USA
Copyright
© Garst et al.; licensee BioMed Central Ltd. 2013
This article is published under license to BioMed Central Ltd. This is an open access article distributed under the terms of the Creative Commons Attribution License (http://creativecommons.org/licenses/by/2.0), which permits unrestricted use, distribution, and reproduction in any medium, provided the original work is properly cited.