Genome-scale metabolic network guided engineering of Streptomyces tsukubaensis for FK506 production improvement
Microbial Cell Factories
2013
12:52
Received: 10 April 2013
Accepted: 21 May 2013
Published: 24 May 2013
Abstract
Background
FK506 is an important immunosuppressant, which can be produced by Streptomyces tsukubaensis. However, the production capacity of the strain is very low. Hereby, a computational guided engineering approach was proposed in order to improve the intracellular precursor and cofactor availability of FK506 in S. tsukubaensis.
Results
First, a genome-scale metabolic model of S. tsukubaensis was constructed based on its annotated genome and biochemical information. Subsequently, several potential genetic targets (knockout or overexpression) that guaranteed an improved yield of FK506 were identified by the recently developed methodology. To validate the model predictions, each target gene was manipulated in the parent strain D852, respectively. All the engineered strains showed a higher FK506 production, compared with D852. Furthermore, the combined effect of the genetic modifications was evaluated. Results showed that the strain HT-ΔGDH-DAZ with gdhA-deletion and dahp-, accA2-, zwf2-overexpression enhanced FK506 concentration up to 398.9 mg/L, compared with 143.5 mg/L of the parent strain D852. Finally, fed-batch fermentations of HT-ΔGDH-DAZ were carried out, which led to the FK506 production of 435.9 mg/L, 1.47-fold higher than the parent strain D852 (158.7 mg/L).
Conclusions
Results confirmed that the promising targets led to an increase in FK506 titer. The present work is the first attempt to engineer the primary precursor pathways to improve FK506 production in S. tsukubaensis with genome-scale metabolic network guided metabolic engineering. The relationship between model prediction and experimental results demonstrates the rationality and validity of this approach for target identification. This strategy can also be applied to the improvement of other important secondary metabolites.
Keywords
Streptomyces tsukubaensis FK506Genome-scale metabolic modelTarget predictionMetabolic engineeringCombinatorial modification
Background
FK506 (tacrolimus), which is produced by
Streptomyces tsukubaensis
, is a 23-membered polyketide macrolide (Figure
1
A). It has been used as an immunosuppressant after the transplantation of allogeneic kidney, liver and bone marrow as well as for the treatment of inflammatory skin diseases and eczema[
1
–
3
]. FK506 structural cluster contains polyketide synthase (PKS) and non-ribosomal peptide synthetase (NRPS) (Figure
1
B), which belongs to an amide bond-containing macrolide family with ascomycin and rapamycin[
4
–
7
]. PKS is responsible for assembling specific carboxylic acid-derived extender units into polyketide chains and catalyzing subsequent reductive reactions. NRPS incorporates various amino acids or amino acid derivatives into non-ribosomally synthesized peptides.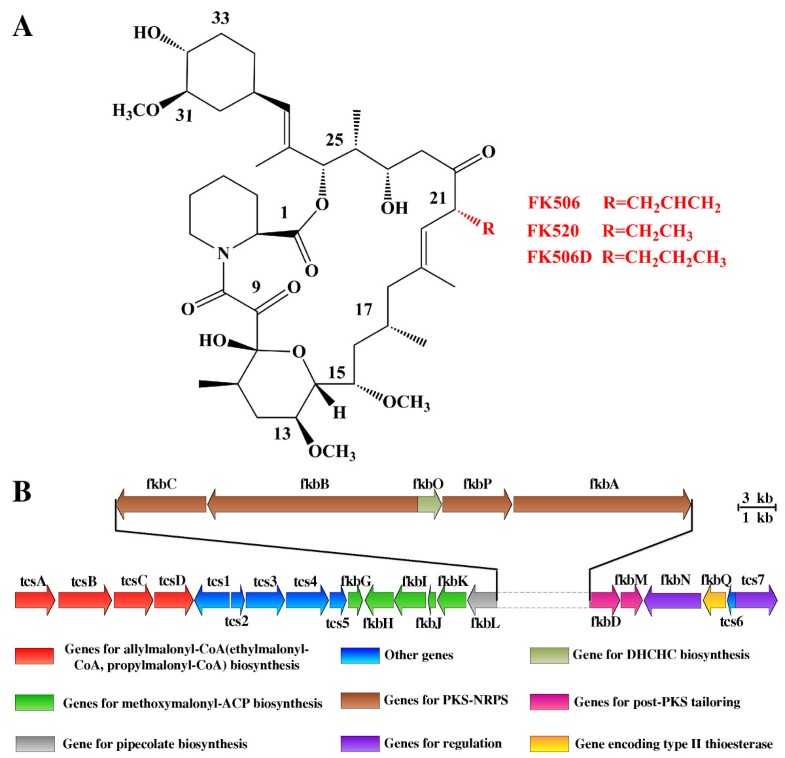 Recently, tremendous efforts based on the random mutagenesis and selection approaches have been dedicated to the development of efficient FK506 synthesis. As a major bottleneck, the FK506 yield in fermentation process is relatively low, which may be due to the limited level of intracellular precursors. Thus, it is essential to engineer the strain to improve the requirement of precursors for product formation. Indeed, metabolic engineering efforts aimed at improving intracellular precursors have regulated the key pathways of natural products such as polyketide and polypetide. For example, it was reported that overexpression of propionyl-CoA carboxylase, methylmalonyl-CoA mutase, and malonyl/methylmalonyl-CoA ligase led to the accumulation of methylmalonyl-CoA, a key precursor of FK506[8]. Besides, the precursor pathway enhancement has been performed by strengthening the supply of unusual polyketide extender units[9].
Genetic manipulations may improve the precursor synthesis and product titer. Nevertheless, the approach is always uncertain and blind for target genes validation. Additionally, as cells have highly interconnected metabolic pathways, overexpression or knockout of the specific pathway may generate an effect on other pathways and subsequently on the cell growth. Importantly, since the scope of engineering is local, there may exist some limitations for strain improvement. Therefore, it is challenging to evaluate the cellular behaviors comprehensively and identify the accurate target genes for efficient strain improvement from the systems-level.
Developed by the techniques such as flux balance analysis (FBA) and minimization of metabolic adjustment (MOMA), systems biology plays an important role in strain metabolic engineering by changing metabolic flux distribution within a microorganism based on systematic strategies. As more microorganisms have been sequenced, the reconstruction of a genome-scale metabolic model (GSMM) becomes necessary in gaining comprehensive insight into microbial physiology[10]. Stoichiometric models-based GSMM can be employed to interpret cellular metabolic response to genetic perturbation and unravel the underlying reasons of undesired phenotypes. This approach saves time, labor, and research expenditure by decreasing the amounts of wet-experiments. Currently, GSMMs have been used to identify metabolic engineering targets for many important industrial products such as biofuels, vitamins, amino acids and secondary metabolites[11–14].
In the past decades, various computational strain design algorithms, such as MOMA, ROOM, OptKnock, OptReg, OptORF, RobustKnock, OptStrain and OptForce have been developed to efficiently predict target genes for improved product yield[15–22]. Among the above approaches, intracellular flux distribution can be calculated by maximization of cell biomass or minimization of metabolic adjustments. The calculated results which largely reveal the physiological state of the wild-type strain can be used to inactivate the target pathways for improved production. In addition to the knockout prediction, the overexpression prediction algorithm has also been recently developed to direct application of product overproduction[23, 24].
In this study, a GSMM of S. tsukubaensis was reconstructed to simulate the intracellular flux distribution. Guided by FBA and MOMA prediction, several genetic targets that were outside of the secondary metabolic pathways were identified. These targets were then screened and validated experimentally through metabolic engineering as well as subsequent batch fermentations. Moreover, the gene knockout and overexpression combinatorial strategy was implemented to enhance the FK506 production up to 435.9 mg/L of final titer, an approximately 2-fold increase relative to the parent strain.
Discussion
Despite many efforts aimed at optimizing different microorganisms for industrial FK506 production[8, 9], there has been no report of a genetically engineered FK506 over-producer that can compete with the traditionally producing strains. GSMM provides an approach for strain optimization—systems metabolic engineering. The approach can be used to identify the bottleneck in the intracellular behaviors thus improve product yield on the basis of metabolic engineering. Specifically, the GSMM can facilitate the in silico prediction of previously unknown key metabolic nodes, thus enable synthesize more precursors and cofactors towards FK506. In fact, this strategy has been successfully used to identify target genes for the improvement of biochemical products[23, 24, 33, 34]. In the present work, the GSMM of S. tsukubaensis were used to identify gene targets for improved FK506 production.
Among the initially predicted targets, NADPH-dependent glutamate dehydrogenase encoded by gdhA and phosphoenolpyruvate carboxylase encoded by ppc were chosen as knockout targets. The introduced genetic modification of gdhA influenced several fluxes through the central carbon metabolism (Figure 2). One of these flux changes was the reaction supplying cofactor NADPH for FK506. The pathway has been manipulated to improve important secondary metabolites such as lycopene and sesquiterpene[11, 35]. Although the gdhA plays a key role in the ammonium uptake and amino acids metabolism, the carbon flux through GDH2 compensates for the loss of GDH1. In this study, HT-ΔGDH showed an approximately 40% increase in FK506 titer compared with D852. In this regard, deletion of gdhA could lead to a new redistribution of carbon flux that could be partially diverted into FK506 biosynthesis instead of glutamate family biosynthetic pathway, thus acquire an overall increase in yield.
Deletion of ppc reduced the flux from PEP to oxaloacetate[36]. Due to a decreased flux through PPC, the net flux from PEP towards shikimate pathway increased, which directed more precursors towards FK506 biosynthesis (Figure 2). From this perspective, the substantial PPC flux in D852 blocked efficient carbon conversion to DHCHC precursor for FK506 production. Thus, it was necessary to delete the PPC encoding gene ppc. In fact, it has been demonstrated that PPC is not an indispensable enzyme in Corynebacterium glutamicum[37]. Besides, in B. subtilis pyruvate carboxylase can replace PPC to maintain the anaplerotic reaction[38]. In our study, the ppc disruption resulted in an approximately 45% increase in the final FK506 titer. However, deletion of this gene also caused a 24% decrease in the biomass compared with D852, indicating that the pathway exerted a negative effect on the primary metabolism[39]. Moreover, it was observed that when the two selected knockout genes were manipulated in combination, the FK506 production decreased, compared with the single knockout strain (HT-ΔGDH or HT-ΔPPC) (Figure 7). It may be primarily ascribed to the unbalanced metabolism between cell growth and product formation, which would be explored in our future research.
In addition, several overexpression targets were identified using the algorithm raised by[24]. Overexpression of dahp gene showed an advantageous effect on the final FK506 titer and a slight effect on the cell growth. Interestingly, dahp overexpression has been previously applied to improve balhimycin yields by enhancing shikimate pathway[40]. However, the yield increment was not so much as predicted by the algorithm. In addition to the reasons of prediction, the bottleneck may be that in the primary metabolism aromatic amino acid biosynthesis is strictly controlled by feedback inhibition mechanisms. In E. coli, there are three isoenzymes of DAHP synthase, encoded by aroF (tyrosine-sensitive), aroG (phenylalanine-sensitive), and aroH (tryptophan-sensitive)[41]. The aroF and aroG can be inhibited by only 0.1 mM of tyrosine and phenylalanine, respectively. Thus, it is necessary to apply specific metabolic adaptations to resist feedback inhibition[42]. Fortunately, it has been revealed that some antibiotic biosynthetic clusters contain another similar gene, which is not inhibited by aromatic amino acids[43–45]. Therefore, it provides an opportunity to further optimize FK506 production.
The direct precursors of FK506 biosynthesis are malonyl-CoA, methylmalonyl-CoA, methoxymalonyl-ACP and allymalonyl-CoA[7, 46, 47]. Therefore, the predicted accA2 gene was overexpressed, as it catalyzed the conversion of acetyl-CoA to malonyl-CoA (Figure 2). In S. tsukubaensis, the acetyl-CoA pool as well as sources of malonyl-CoA are limited. Overexpression of ACC enhanced the biosynthesis of malonyl-CoA (Figure 5), leading to the high production of FK506. Overexpression of ACC has also resulted in an improved malonyl-CoA biosynthesis and flavanone overproduction[34]. Malonyl-CoA availability has been shown to be a rate-limiting factor for many chain initiation and elongation reactions such as fatty acid, flavonoid and polyketide biosynthesis[48, 49]. These facts clearly showed the beneficial effect of accA2 overexpression in enhancing the malonyl-CoA pool available for FK506 biosynthesis.
With the aid of fPH value, targets pntAB and zwf2 were identified to play an important role in regulating the redox metabolism. They were both responsible for the provision of NADPH as a cofactor of FK506 biosynthesis. In order to improve NADPH availability, a NADP-dependent glyceraldehyde-3-phosphate dehydrogenase from Clostridium acetobutylicum was introduced into E. coli to replace the native NAD-dependent enzyme, which exerted an improvement in the lycopene and ϵ-caprolactone production[50]. In addition, it was reported that inactivation of the phosphofructokinase gene (pfkA) directed more carbon flow towards the PPP, leading to actinorhodin and undecylprodigiosin overproduction in S. coelicolor A3(2)[51]. In our work, the zwf2 and pntAB genes were overexpressed both individually and combinatorially. The single overexpression strain (HT-PNT or HT-ZWF) produced an improved FK506 in comparison to wild-type strain D852. Consequently, it was considered that enhancing NADPH availability may improve flux towards the FK506 biosynthesis pathway. However, the recombinant strain HT-PZ expressing both genes showed lower concentration than HT-PNT or HT-ZWF (Figure 7). This may be attributed to the fact that additional redox gene caused the metabolic imbalance which was closely related with the energy, amino acids, lipids and nucleotides metabolism[52]. It was indicated that synthesis of FK506 may be strictly regulated by the intracellular NADPH level. In fact, it has been reported that sufficient NADPH concentrations and proper redox balance are necessary for NADPH-dependent biosynthetic processes[53]. Thus, it seemed that reducing equivalents were not transferred from NADH to NADPH via PNT in HT-PZ, and the net reducing equivalents available for FK506 production could not exceed a certain value. These results demonstrated that, on one hand, overexpression of gene pntAB or zwf2 increased NADPH availability; on the other hand, a proper and balanced redox state was necessary for the efficient FK506 production.
Combination of multiple genes knockout and overexpression manipulation was also analyzed in this study. The performance of these strains could aid in understanding the relationship between the impact of single gene manipulation and combinatorial genes manipulation on the FK506 biosynthesis pathway. As shown in Figure 7, the gdhA knockout mutants combined with the other overexpression genes were beneficial to the improvement of FK506 synthesis, while ppc mutants combinations enhanced FK506 production to a lesser extent. The rational designed strain S. tsukubaensis HT-ΔGDH-DAZ with overexpression of dahp, accA2, zwf2 and deletion of gdhA was a promising cell factory which may be applied to produce FK506 efficiently in industry fermentation. The strain HT-ΔGDH-DAZ displayed a high specific FK506 production rate (2.65 and 2.74 μmol/g DCW/h for 500-mL flask batch culture and 3-L bioreactor fed-batch cultivation, respectively). Besides, the genetic stability result indicated that the hereditary character of the strain HT-ΔGDH-DAZ was stable. Therefore, in the laboratory-scale, our engineered strain HT-ΔGDH-DAZ can compete with traditional overproducers. It was interesting to see that impact of multiple genes modification on metabolic characteristic of strain may be related to the interactions among the interconnected pathways. Recently, this observation has been clearly elucidated to be the synergistic effect (positive or negative cooperativity)[54], which would guide the selection of combinatorial genes modification for strain optimization.
Based on the experimental validation, the predicted gene targets directed more carbon flux or redox cofactor towards FK506 production. However, the observed improvement in the specific FK506 production rate (Additional file3: Table S1) was much lower compared to the predicted improvement. These differences might be due to the fact that our metabolic network did not take into account the kinetic and thermodynamic constraints on the possible flux changes, the interaction of pathways as well as complex regulatory mechanisms. Therefore, there existed some limitations in our constraint-based metabolic model. Even so, the observed improvement in the FK506 production proved the validity of the metabolic engineering target. The intracellular metabolite data obtained from this study can be used to investigate the thermodynamic and kinetic parameters of the pathways, which are imposed as additional constraints on the model for the next round of metabolic engineering. Besides, since the true pathway fluxes are still unknown, it is necessary to quantify intracellular fluxes by 13C-metabolic flux analysis, which will further improve algorithm predictability.
Conclusions
In this work, the GSMM-guided metabolic engineering strategy was employed to improve the FK506 production of S. tsukubaensis. Based on the single gene knockout and overexpression simulation, potential targets (gdhA and ppc for knockout; dahp, pntAB, accA2 and zwf2 for overexpression) were identified. The strains were designed according to each predicted target. Fermentation characterization of the engineered strains with single gene knockout or overexpression showed the improved capacities of FK506 production. Moreover, the combinatorial genes modification indicated that strain HT-ΔGDH-DAZ with gdhA-deletion and dahp-, accA2-, zwf2-overexpression produced 435.9 mg/L FK506 during fed-batch fermentation, 1.47-fold higher than the parent strain D852 (158.7 mg/L). Our results demonstrate the validity of application of in silico modelling tools for biopharmaceuticals overproduction. The intracellular metabolite data would be used for computational analysis to investigate kinetics and thermodynamics of the pathways. The precursors or cofactors availability would be further investigated to regulate the accumulation of intermediates and to enhance efficient conversion into FK506. Moreover, since FK506 biosynthetic cluster influenced the titre, enhancing the catalysed efficiency of the cluster might be essential for future work.
Declarations
Acknowledgements
This work was financially supported by the National 973 Project of China (No. 2013CB733600), the Key Program of National Natural Science Foundation of China (No. 21236005) and the Program of Introducing Talents of Discipline to Universities (No. B06006).
Authors' Affiliations
(1)
Department of Biochemical Engineering, School of Chemical Engineering and Technology, Tianjin University, Tianjin, China
(2)
Ministry of Education, Key Laboratory of Systems Bioengineering, Tianjin, China
(3)
TEDA School of Biological Sciences and Biotechnology, Nankai University, TEDA, Tianjin, China
Copyright
© Huang et al.; licensee BioMed Central Ltd. 2013
This article is published under license to BioMed Central Ltd. This is an Open Access article distributed under the terms of the Creative Commons Attribution License (http://creativecommons.org/licenses/by/2.0), which permits unrestricted use, distribution, and reproduction in any medium, provided the original work is properly cited.