Fermentation stage-dependent adaptations of Bacillus licheniformis during enzyme production
Microbial Cell Factories
2013
12:120
Received: 26 August 2013
Accepted: 1 December 2013
Published: 6 December 2013
Abstract
Background
Industrial fermentations can generally be described as dynamic biotransformation processes in which microorganisms convert energy rich substrates into a desired product. The knowledge of active physiological pathways, reflected by corresponding gene activities, allows the identification of beneficial or disadvantageous performances of the microbial host. Whole transcriptome RNA-Seq is a powerful tool to accomplish in-depth quantification of these gene activities, since the low background noise and the absence of an upper limit of quantification allow the detection of transcripts with high dynamic ranges. Such data enable the identification of potential bottlenecks and futile energetic cycles, which in turn can lead to targets for rational approaches to productivity improvement. Here we present an overview of the dynamics of gene activity during an industrial-oriented fermentation process with Bacillus licheniformis, an important industrial enzyme producer. Thereby, valuable insights which help to understand the complex interactions during such processes are provided.
Results
Whole transcriptome RNA-Seq has been performed to study the gene expression at five selected growth stages of an industrial-oriented protease production process employing a germination deficient derivative of B. licheniformis DSM13. Since a significant amount of genes in Bacillus strains are regulated posttranscriptionally, the generated data have been confirmed by 2D gel-based proteomics. Regulatory events affecting the coordinated activity of hundreds of genes have been analyzed. The data enabled the identification of genes involved in the adaptations to changing environmental conditions during the fermentation process. A special focus of the analyses was on genes contributing to central carbon metabolism, amino acid transport and metabolism, starvation and stress responses and protein secretion. Genes contributing to lantibiotics production and Tat-dependent protein secretion have been pointed out as potential optimization targets.
Conclusions
The presented data give unprecedented insights into the complex adaptations of bacterial production strains to the changing physiological demands during an industrial-oriented fermentation. These are, to our knowledge, the first publicly available data that document quantifiable transcriptional responses of the commonly employed production strain B. licheniformis to changing conditions over the course of a typical fermentation process in such extensive depth.
Keywords
Differential gene expressionTranscriptomicsProteomicsRNA-SeqSubtilisin CarlsbergIndustrial productionStress responseSporulationLichenicidin
Background
For several decades, strains of the Bacillus subtilis group [1] have been exploited for industrial purposes. The scope of applications includes the production of amylases, proteases and antibiotics by strains of B. subtilis, B. amyloliquefaciens, B. pumilus or B. licheniformis[2]. High capacities of product secretion, high growth rates, and the GRAS (generally regarded as safe) status of many strains have contributed to the employment of these species as biotechnological workhorses [2]. In general, the production process can be considered as an energy consuming biotransformation in which a nutrient rich substrate is converted into the desired product by a member of the genus Bacillus.
The productive process examined in this study is based on the production platform B. licheniformis, which has been proven to perform well for the production of alkaline proteases and in particular subtilisins, which are used in all types of laundry detergents [3]. Therefore, research efforts have been focused on the B. licheniformis subtilisin fermentation process and the resulting yield of active enzyme. A major aspect has been monitoring and improvement of bioprocess parameters such as oxygen transfer rate [4–6], pH value [7, 8], inoculum quality [9] and initial glucose concentration [10], whereas other studies addressed the optimization of the fermentation medium [11, 12]. Strategies for the molecular biological improvement of subtilisin [13] and its secretion [14] have been described. Attention has also been paid to strain optimization by generation of deletion mutants targeting transfer of genetic material [15, 16], secretion capability [17], sporulation and biological containment [18–20]. Investigation of B. licheniformis under different stress conditions by proteomics and microarray-based transcriptomics have been applied to identify marker genes [21–24], to enable the detection of stressors during a productive fermentation process. However, rational strain or bioprocess optimization requires potential targets and therefore the knowledge of genomic activities during the crucial stages of a fermentation process under industry-oriented conditions is essential.
An RNA-Seq-based study targeting the identification of B. licheniformis DSM13 RNA-based regulatory elements such as non-coding and antisense RNAs under production-oriented growth conditions has recently been published by our group [25]. The application of RNA-Seq allows the quantification of transcripts with a hitherto unmatched dynamic range spanning several orders of magnitude [26], therefore enabling in depth analysis of differential expression between physiological conditions or developmental states. Further advantages of RNA-Seq are the low background noise, the provided single base resolution and the high reproducibility [26, 27]. Therefore, RNA-Seq, especially when coupled with other "omics" techniques like 2D gel-based proteomics, provides the opportunity for global investigation of microbial gene expression. However, although recent advantages in RNA-Seq technology have greatly enhanced the efficiency and availability of this approach, no such data on industrial fermentations of B. licheniformis have been made publicly available to this day.
To identify gene activities of B. licheniformis directly related to the productivity of a subtilisin fermentation process, we present a high-resolution quantitative and dynamic exploration of the transcriptional responses of B. licheniformis confirmed by proteome data. Special attention was given to production stage-related adaptions of B. licheniformis. The RNA abundances and the cytoplasmic proteome composition of all samples were determined by RNA-Seq experiments and by 2D gel electrophoresis [25], respectively. As measure of gene expression, the normalized amount of sequenced nucleotides per gene is expressed in single-base resolution by the NPKM (n ucleotide activity p er k ilobase of exon model per m illion mapped reads) value [25], which is closely related to the more common RPKM value [28]. These data provide a first analytical framework to gain better understanding of the dynamics during such fermentations, and to enable the identification of potential physiological and genetic bottlenecks. Furthermore, the data are intended as a reference for subsequent comparisons with transcriptome data from other fermentation procedures employing related Bacillus strains, in order to guide rational approaches for the optimization of production processes.
Results and discussion
In this study, transcriptome and proteome data of selected samples from an industry-oriented fermentation have been analyzed with focus on physiological changes during the process. The samples were taken in triplicate at five time points (sampling points I-V) during growth within a subtilisin fermentation process of
B. licheniformis
MW3Δspo (Figure
1
; Additional file
1
: Figure S1). This strain is a germination deficient mutant of
B. licheniformis
DSM13, transformed with an expression plasmid encoding a subtilisin protease. Sampling point I represents the growth in presence of glucose, whereas sampling points II and III correspond to the subsequent phase of glucose starvation. Sampling points IV and V represent the productive stages of the process in which the alkaline protease is synthesized and secreted.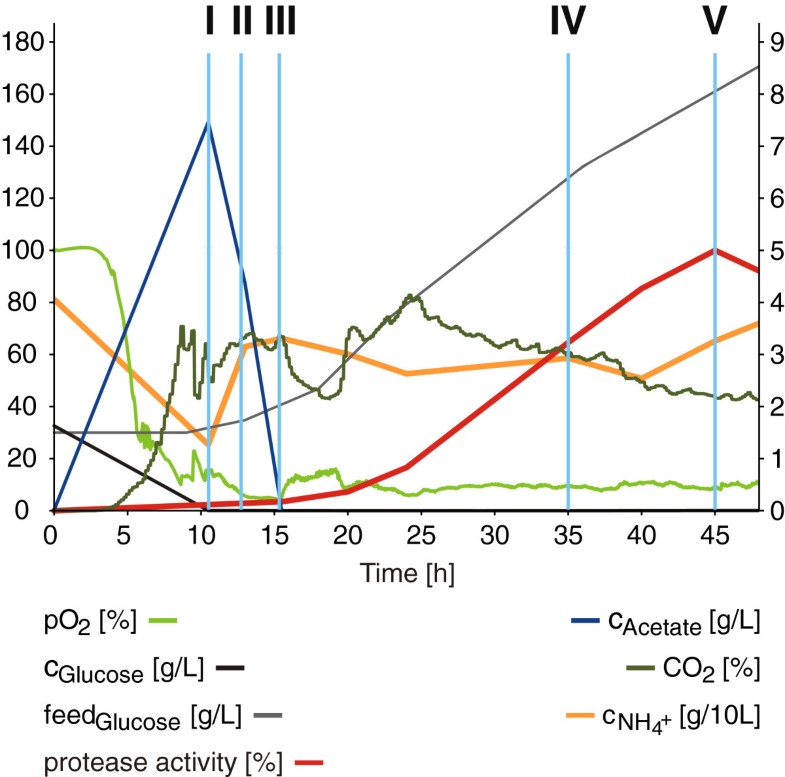 Previously, we curated the annotation of 4172 protein-coding genes and determined the respective transcript abundances in all samples [
25
,
29
], resulting in NPKM values from 0 for lacking transcripts to 85.267 for the most abundant transcripts (Figure
2
). Analysis of the obtained data with baySeq [
30
] and ANOVA revealed that 980 and 1016 genes, respectively, are differentially expressed at the different sampling points. In total, 1395 genes were determined as differentially expressed by at least one method and utilized for further analysis. Generic GO slim enrichment analysis [
31
,
32
] revealed that genes assigned to regulation, protein modification and metabolism, DNA metabolism, cell cycle and translation are underrepresented within this dataset of differentially expressed genes. Overrepresented genes were assigned to protein transport, response to external stimuli, carbohydrate metabolic processes and cell differentiation.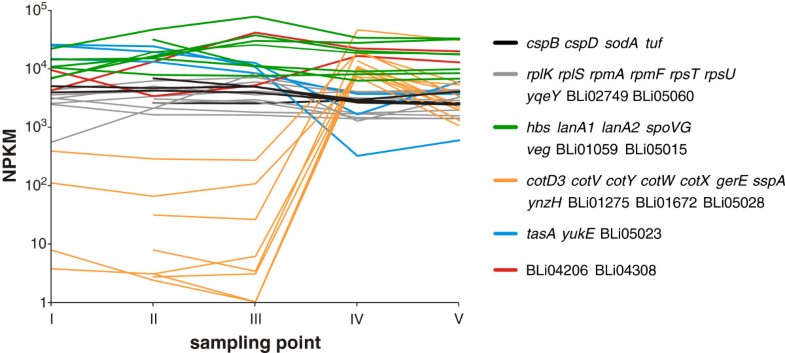 The transcriptome data allowed the assignment of 3567 genes to 23 clusters by
k
-means cluster analysis based on the determined differentially expressed genes (Figure
3
and Figure
4
; Additional file
2
: Table S1) [
36
]. Each cluster was also examined for over- and underrepresented groups of genes by GO term-based enrichment analysis (Additional file
2
: Table S2) [
32
,
37
]. Clusters A-H and N-Q comprise genes which are more abundant at the early stages of the process than at the later sampling points. In this group, overrepresented genes are mainly involved in gene expression and translation, biosynthetic processes, transport and metabolism of amino acids, or central carbon metabolism including glycolysis and TCA cycle. Another pattern can be found for clusters I-M and R + S which contain genes displaying higher transcript abundances in the productive stage of the fermentation (sampling points IV and V). In clusters with the highest measured transcript abundances at stage IV (K-M) genes were predominantly involved in sporulation processes. Transcripts more abundant in stage V than in stage IV are depicted in clusters I and J and, among others
,
encompass genes for phosphate ABC transporter PstABC and nitrate reductase NarGHIJ.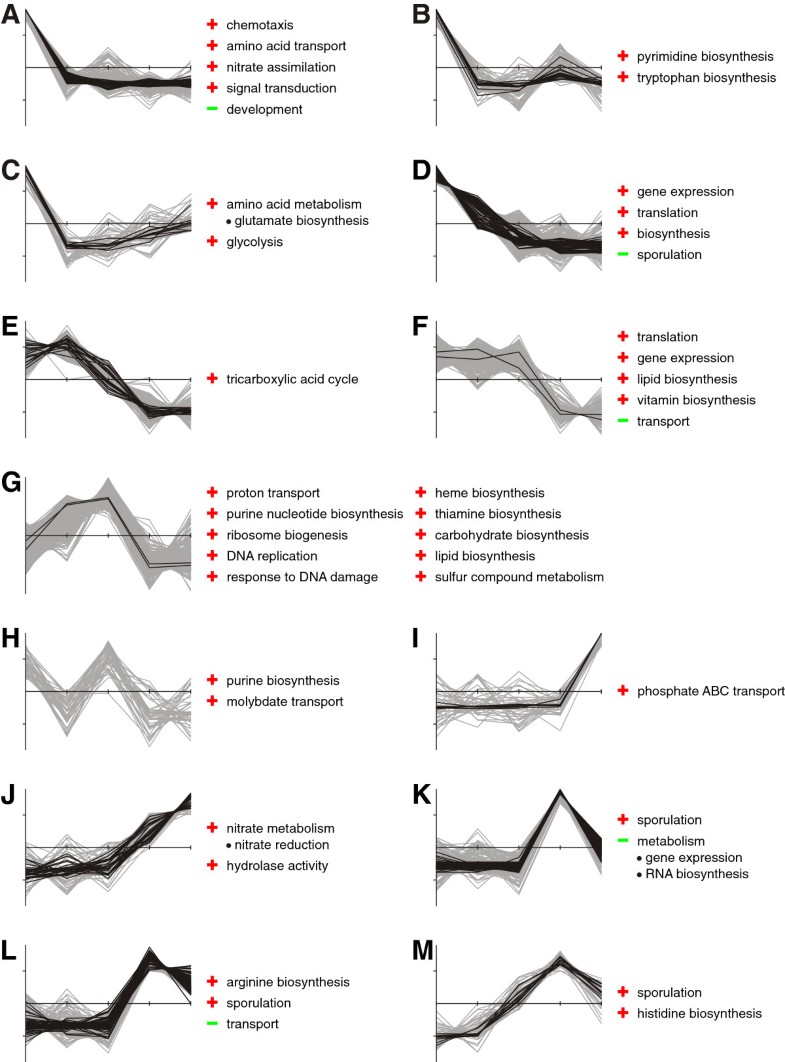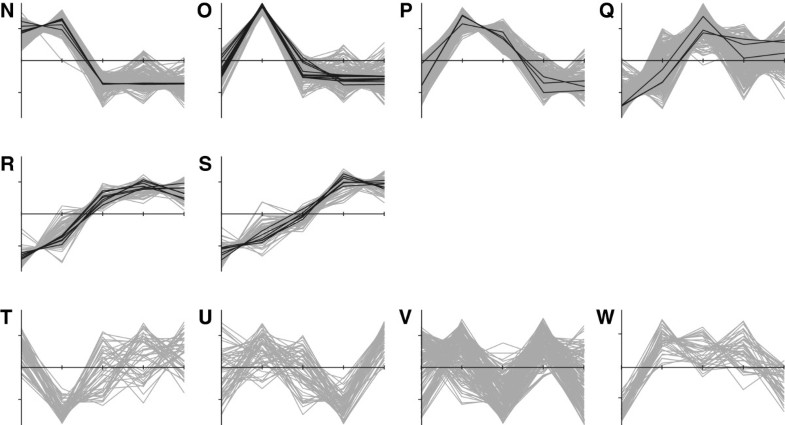 Detailed analyses of transcript and protein abundances (Additional file 2: Table S3) concerning important factors of bacterial growth and productivity (amino acid transport and metabolism, central carbon metabolism, starvation and stress responses, and protein secretion) will be presented in the following passages.
Conclusion & outlook
The presented data give unprecedented insights into the complex adaptations of the bacterial production strain B. licheniformis DSM13 to the changing physiological demands during an industrial-oriented fermentation using the example of a detergent protease production process. We thereby provide reference data for a better understanding and possible optimization of industrial fermentation processes.
These insights enabled us to pinpoint physiological adaptations within the bioprocess, many of which could be confirmed by proteome analysis. Cluster analysis clearly revealed strong growth phase dependencies of many genes as well as some phase-independent genes. RNA as well as protein abundances of the central carbon metabolism and the amino acid metabolism are in accordance with the initial glucose-driven metabolism. Main changes in the corresponding pathways regard the overflow metabolism and the subsequent catabolism of the thereby produced C2 compounds as well as the alternating synthesis and degradation of glutamate and its derivates. Changes in RNA abundances reflect a transition of sustenance from more complex molecules like peptides and oligomers to amino acids. This emphasizes the importance of the secreted protease and its activity on the substrate as a functional component of the productive fermentation.
By comparing our data to previous transcriptome studies focusing on stress conditions, we were able to reliably identify potential stress factors within the process. A detailed inspection of the associated transcripts revealed oxidative stress and increasing phosphate limitation as important factors. Notably, the transcripts of the lichenicidin biosynthesis-related genes lanA1 and lanA2 are highly abundant throughout all sampling points. The high abundances of the complete lan gene cluster and the majority of sporulation-involved genes indicate a substantial production of antimicrobial compounds and a responsive, KinC-enhanced induction of sporulation. This energy-consuming behavior is clearly not supportive in terms of productivity.
An interesting finding concerning protein secretion pathways is the increase in abundance of the Tat pathway components tatAY and tatCY from sampling point I to V, which is in contrast to the abundance patterns of genes of the Sec secretory system. Thus, the cells seem to increase the overall secretion capacity during the production process by including non-typical secretory pathways.
The presented findings enabled the identification of important physiological and genetic switches of B. licheniformis which limit the overall productivity. The data indicate several opportunities to improve the strains performance in the production of subtilisin. The observed adaptions to the changing substrate supply during the successive metabolization of media components suggest that an optimization of the non-optimal amino acid composition or phosphate supply may lead to better reproducibility, increased efficiency, cycle time reduction, and finally a diminished employment of resources. Optimization of the deployed strain should also be achieved by the introduction of genetic modifications. For instance, the observed strong expression of the lan gene cluster which encodes an undesirable cell wall stress inducing byproduct marks it as promising target for a gene deletion. Another approach might be the modulation of the subtilisin signal peptide to channel subtilisin to the putative Tat-dependent secretion pathway.
Methods
Bacterial strains and fermentation
The samples for the proteome analysis were derived from fermentation experiments carried out for Bacillus licheniformis MW3Δspo described earlier. For detailed description of fermentation conditions, sampling points and sequencing of the transcriptome please refer to Wiegand et al. [25].
Preparation of cytosolic protein extracts
50 mL of harvested cells were supplemented with 0.5 mL of protease inhibitor (3758.1, Carl Roth, Germany) directly upon sampling. Centrifugation was carried at 4500× g and 4°C for 10 min. The supernatant was removed and the cells were stored at -80°C.
For preparation of the cytosolic protein extracts the insoluble components of the fermentation medium were removed from the bacterial pellet by washing at least three times in ice cold 100 mM Tris/HCl, pH 7.5 buffer at 10000× g and 4°C for 10 min. After the last washing step the pellet was resuspended in 600 μL TE buffer (10 mM Tris/HCl, pH 7.5, 1 mM EDTA) containing 1.4 mM phenylmethylsulfonyl fluoride (PMSF). After addition of 250 μL glass beads (0.25-0.5 mm) the cells were disrupted by using RiboLyser cell mill (30 s at 6800 rpm, 5 min on ice, 30 s at 6800 rpm; Hybaid, UK). Glass beads and cell debris were removed by two centrifugation steps at 13000× g and 4°C for 30 min. To remove ions, which could disturb the isoelectric focusing, the protein extracts were purified with Amicon Ultra 3 K Centrifugal Filters (Millipore, Germany). The protein concentration of the protein extracts was determined using Roti®NanoQuant (Carl Roth, Germany).
Two dimensional gel electrophoresis, imaging and quantification
Isoelectric focusing (IEF) of the cytosolic protein extracts was performed according to [90]. IPG Blue Strips 4–7 (SERVA, Germany) were loaded with 150 μg protein extract, which was adjusted to 340 μL with 2 M thiourea/8 M urea buffer and 34 μL CHAPS solution (20 mM DTT, 1% w/v CHAPS detergent) and rehydrated over night. IEF was carried out on a Multiphor II unit (Amersham Pharmacia Biotech) employing the following step gradient: 150 V for 150 Vh,300 V for 300 Vh, 600 V for 600 Vh, 1500 V for 1500 Vh, and a final phase of 3000 V for 57.5 kVh at 20°C. Before separation in the second dimension the IPG strips were incubated in 3.5 mL equilibration buffer A (2.4 M urea, 12% v/v glycerol, 4% v/v 0,5 M Tris pH 6.8, 55.5 mM SDS, 9 mM DTT) and equilibration buffer B (2.4 M urea, 12% v/v glycerol, 4% v/v 0,5 M Tris pH 6.8, 55 mM SDS, 9 mM DTT, 97 mM iodacetamide, 0.15 mM bromphenol blue), each for 15 min on an orbital shaker. Electrophoresis of the proteins was carried out on 12.16% acrylamide/0.34% bisacrylamide gels at 40 W for 1 h and 16 W for additional 16.5 h at 12°C. Gels were stained with Flamingo™ Fluorescent Gel Stain (Bio-Rad Laboratories, USA) following the manufacturer's instructions. The gels were imaged with a Typhoon Imager 9400 (GE Health Care, UK). Spot detection was performed semi-manually with the Delta2D software version 4.1 (Decodon, Germany). Spot quantification was also done with the Delta2D software as described by Wolf et al. [91]. Quantities for proteins represented by more than one distinct spot are given for each spot separately.
Identification of proteins from 2D gel spots
Selected protein spots were excised from 2-D gels using a spot cutter (Bio-Rad, USA). Digestion with trypsin and spotting on the MALDI-target was achieved using the Ettan Spot Handling Workstation (GE Health Care, UK) employing the manufacturers' protocol. Mass spectrometry was carried out with a Proteome Analyzer 4800 (Applied Biosystems, USA) according to Wolf et al. [91]. The spectra were recorded in a mass range from 900 to 3700 Da with a focus mass of 1600 Da. An internal calibration was performed automatically when the autolytic fragments of trypsin with the mono-isotopic (M + H)+ m/z at 1045.556 or 2211.104 reached a signal to noise ratio (S/N) of at least 20.
Peak lists were created by using the script of the GPS Explorer TM Software Version 3.6 (Applied Biosystems, USA) with the following settings: mass range from 900 to 3700 Da, peak density of 15 peaks per 200 Da, minimal area of 100 and maximal 60 peaks per spot. The peak list was created for an S/N ratio of 15. MALDI-TOF-TOF measurements were carried out for the five strongest peaks of the TOF-spectrum. Using a random search pattern, 25 sub-spectra with 125 shots per sub-spectrum were accumulated for one main spectrum. The mono-isotopic arginine (M + H)+ m/z at 175.119 or lysine (M + H)+ m/z at 147.107 was used for internal calibration (one-point-calibration) when it reached a signal to noise ratio (S/N) of at least 5. Peak lists were created with the following settings: mass range from 60 to precursor – 20 Da, peak density of 15 peaks per 200 Da, minimal area of 100 and maximal 65 peaks per precursor. The peak list was created for an S/N ratio of 10. For data base search the Mascot search engine version 2.4.0 (Matrix Science Ltd, UK) with a specific Bacillus licheniformis (http://www.uniprot.org/uniprot/?query=Bacillus+licheniformis&sort=score) database was used.
Statistical data analysis
NPKM (nucleotide activity per kilobase of exon model per million mapped reads) values [25] were computed for every protein-coding gene in all samples as a measure of RNA abundance. Based on the NPKM values analysis of differential expression was performed with baySeq [30] and one-way ANOVA [92]. Genes were assumed to be differentially expressed with a resulting baySeq likelihood value >0.9 or an ANOVA-based p-value <0.01 (False Discovery Rate (FDR) 2%).
k-means clustering
k-means clusters were generated to identify fermentation stage-dependent trends in gene expression. (i) To ensure that the data of each replicate are sufficiently reliable, t-tests [93] were performed using TM4 MeV v4.8 software [36]. At least three out of the five samples had to have a p-value <0.15 to be taken into further analysis. (ii) For setting up the clusters only transcripts with baySeq likelihood values >0.99 were applied to the next step. (iii) Means of the replicates of each sampling point were calculated and z-score transformation was performed to gain a mean expression value of 0 and a standard deviation of 1 [94]. Clusters A to K and M to S were generated with TM4 MeV v4.8 [36] employing k-means clustering with Euclidian distances after estimating the cluster number by Figure of merit (FOM) analysis [94]. Clusters were cured manually. (iv) Finally, expression profiles of all other genes (p-value <0.15) were added to the determined clusters. Therefore Gene Distance Matrices were computed with TM4 MeV v4.8 [36] in Euclidian distance for all remaining transcripts and the respective cluster means as point of reference. Transcripts were assigned to the previously determined clusters dependent on their scaled distance value. In general the scaled distance value had to be <0.3, exceptions are clusters G and Q with a scaled distance value <0.6. 312 of the remaining 332 expression profiles could be assigned to the newly defined clusters L and T - W.
GO
Gene Ontology terms [37] have been assigned to the genome of B. licheniformis using Blast2GO [32]. Enrichment analysis for every cluster was performed with the implemented Gossip [95] package running a two-tailed Fisher's Exact Test (FDR 0.05). Go terms over- or underrepresented were sorted to their respective child or parent using OBO-Edit. To enable a broad overview of enriched groups Generic GO slims [31] also were assigned and analyzed with Blast2GO.
Heat maps
Color codes presented in the heat maps are based on z-score transformed mean NPKM values for the transcriptome and mean spot quantities for the proteome. Figures 5, 6 and 7 were designed utilizing the CellDesigner™ v4.2 software [96] and employing the databases of SubtiWiki [76], BioCyc [97], KEGG [98] and IMG [99].
Tat signal prediction
Proteins with RR and KR motifs of Tat signal peptides where predicted employing the TatP v1.0 software [100].
Abbreviations
(M + H)+:

Protonated molecular ions
°C:

Degrees Celsius
μL:

Microliter
2D:

Two dimensional
BPG:

1,3-Biphosphoglycerate
C2:

Organic molecule harboring two carbon atoms
CHAPS:

3-[(3-Cholamidopropyl)dimethylammonio]-1-propanesulfonate
CoA:

Coenzyme A
Da:

Dalton
DHAP:

Dihydroxyacetone phosphate
DTT:

Dithiothreitol
F6P:

Fructose 6-phosphate
FBP:

Fructose 1,6-bisphosphate
FDR:

False Discovery Rate
g:

Gravitational constant
G6P:

Glucose 6-phosphate
GADP:

Glyceraldehyde 3-phosphate
GDH:

Glutamate dehydrogenase
GO:

Genome ontology
GOGAT:

Glutamate synthase
GS:

Glutamine synthetase
H:

Hours
H2O2:

Hydrogen peroxide
HCl:

Hydrogen chloride
IEF:

Isoelectric focusing
IPG:

Immobilized pH gradient
kVh:

Kilovolt hour
M:

Molar
m/z:

Mass-to-charge ratio
MALDI:

Matrix-assisted laser desorption/ionization
min:

Minute
mL:

Milliliter
mM:

Millimolar
mm:

Millimeter
NPKM:

Nucleotide activity per kilobase of exon model per million mapped reads
Oxo:

Oxoglutarate
P:

Phosphate
PEP:

Phosphoenolpyruvate
Pyr:

Pyruvate
RK motif:

Twin-arginine motif
RNA-Seq:

RNA sequencing
Rrpm:

Revolutions per minute
RR motif:

Arginine-lysine motif
s:

Second
S/N:

Signal-to-noise ratio
SDS:

Sodium dodecyl sulfate
SRP:

Signal recognition particle
Tat:

twin-arginine translocation
TAXI:

TRAP-associated extracytoplasmic immunity protein
TCA:

Tricarboxylic acid
TOF:

Time-of-flight mass spectrometer
TRAP:

Tripartite ATP-independent periplasmic dicarboxylate transporter
V:

Volt
v/v:

Volume per Volume
Vh:

Volt hour
W:

Watt
w/v:

Weight per volume.
Declarations
Acknowledgements
This study was funded by the Bundesministerium für Bildung und Forschung (FKZ-0315387).
The authors would like to thank Sascha Dietrich and John Vollmers for fruitful discussions during manuscript preparation. We are grateful to Hendrik Hellmuth for evaluation of the manuscript, to Anja Poehlein for thorough proof-reading and to Ayhan Aydemir and Antje Fengler for expert technical assistance.
Authors' Affiliations
(1)
Department of Genomic and Applied Microbiology & Göttingen Genomics Laboratory, Institut für Mikrobiologie und Genetik, Norddeutsches Zentrum für Mikrobielle Genomforschung, Georg-August-Universität Göttingen, Göttingen, Germany
(2)
Division of Microbial Physiology and Molecular Biology, Institut für Mikrobiologie, Norddeutsches Zentrum für Mikrobielle Genomforschung, Ernst-Moritz-Arndt-Universität Greifswald, Greifswald, Germany
(3)
Henkel AG & Co. KGaA, Düsseldorf, Germany
Copyright
© Wiegand et al.; licensee BioMed Central Ltd. 2013
This article is published under license to BioMed Central Ltd. This is an open access article distributed under the terms of the Creative Commons Attribution License (http://creativecommons.org/licenses/by/2.0), which permits unrestricted use, distribution, and reproduction in any medium, provided the original work is properly cited.