Lactobacillus plantarum possesses the capability for wall teichoic acid backbone alditol switching
Microbial Cell Factories
2012
11:123
Received: 2 March 2012
Accepted: 28 July 2012
Published: 11 September 2012
Abstract
Background
Specific strains of Lactobacillus plantarum are marketed as health-promoting probiotics. The role and interplay of cell-wall compounds like wall- and lipo-teichoic acids (WTA and LTA) in bacterial physiology and probiotic-host interactions remain obscure. L. plantarum WCFS1 harbors the genetic potential to switch WTA backbone alditol, providing an opportunity to study the impact of WTA backbone modifications in an isogenic background.
Results
Through genome mining and mutagenesis we constructed derivatives that synthesize alternative WTA variants. The mutants were shown to completely lack WTA, or produce WTA and LTA that lack D-Ala substitution, or ribitol-backbone WTA instead of the wild-type glycerol-containing backbone. DNA micro-array experiments established that the tarIJKL gene cluster is required for the biosynthesis of this alternative WTA backbone, and suggest ribose and arabinose are precursors thereof. Increased tarIJKL expression was not observed in any of our previously performed DNA microarray experiments, nor in qRT-PCR analyses of L. plantarum grown on various carbon sources, leaving the natural conditions leading to WTA backbone alditol switching, if any, to be identified. Human embryonic kidney NF-κB reporter cells expressing Toll like receptor (TLR)-2/6 were exposed to purified WTAs and/or the TA mutants, indicating that WTA is not directly involved in TLR-2/6 signaling, but attenuates this signaling in a backbone independent manner, likely by affecting the release and exposure of immunomodulatory compounds such as LTA. Moreover, human dendritic cells did not secrete any cytokines when purified WTAs were applied, whereas they secreted drastically decreased levels of the pro-inflammatory cytokines IL-12p70 and TNF-α after stimulation with the WTA mutants as compared to the wild-type.
Conclusions
The study presented here correlates structural differences in WTA to their functional characteristics, thereby providing important information aiding to improve our understanding of molecular host-microbe interactions and probiotic functionality.
Keywords
Lactobacillus plantarum ProbioticWall teichoic acidLipoteichoic acidtag and tar genesImmunomodulation
Background
In Gram-positive bacteria the cytoplasmic membrane is covered by a thick cell wall consisting of multiple layers of peptidoglycan, an essential polymer composed of alternating residues of β-1-4-linked N-acetyl muramic acid (MurN ac) and N-acetyl-glucosamine (GlcN ac)[1]. Several other molecules are present in the cell envelope, including teichoic acids (TAs), polysaccharides, and extracellular proteins[2–4]. Most Gram-positive bacteria produce two distinct types of TA that make up a substantial percentage of total cell envelop dry-weight; wall teichoic acid (WTA) is covalently anchored to the MurN AC residue of peptidoglycan via a phosphodiester bond, whereas lipoteichoic acid (LTA) is anchored in the cytoplasmic membrane through a glycolipid[5, 6]. LTAs typically consist of repeating units of glycerol-phosphate[7]. By contrast, WTAs containing a variety of different alditols have been reported[5], although glycerol and ribitol are most common[8].
The
tag
and
tar
gene cluster products are responsible for WTA biosynthesis of the poly(glycerol-3-phosphate) [poly(Gro-P)] and poly(ribitol-5-phosphate) [poly(Rbo-P)] types, respectively. These genes have been extensively studied in
Bacillus subtilis
[
9
] and
Staphylococcus aureus
[
5
,
10
], allowing the identification of most gene functions involved in WTA backbone polymer biosynthesis (Figure
1
) and transport, as well as D-Ala and glycosyl substitution of the basic polymer. Initially, construction of
tag
and
tar
gene deletion mutants appeared impossible and WTA was thought to be essential[
11
,
12
]. More recently, WTA deficient mutants were successfully obtained, e.g. in
S. aureus
[
13
,
14
],
Lactobacillus plantarum
[
15
], and
B. subtilis
[
16
], by deletion of the first gene in the biosynthetic pathway (
tagO
). This suggests that earlier attempts to disrupt genes which function at a later stage in the pathway result in the accumulation of toxic intermediates or the depletion of components like undecaprenyl phosphate that typically function as a scaffold in cell-wall component biosynthesis[
1
,
17
]. Phenotypic analysis of the
L. plantarum
and
B. subtilis tagO
mutants indicated an important role for WTA in normal cell elongation and cell-shape maintenance[
15
,
18
].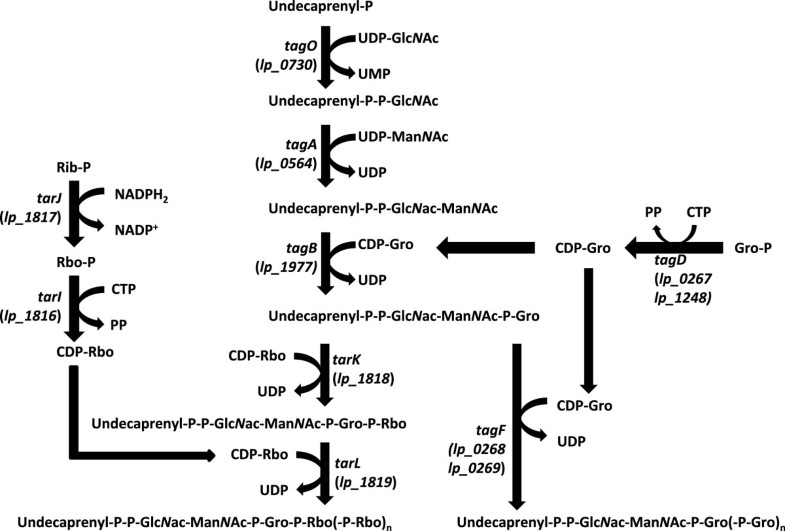 The lactobacilli studied to date have all been shown to produce poly(Gro-P) WTA molecules[17], although some species have been identified that do not produce any WTA, i.e. L. rhamnosus, L. casei, L. fermentum and L. reuteri[2, 3]. Moreover, L. plantarum strains appear to produce either poly(Gro-P) or poly(Rbo-P) WTA[3, 8]. Recently, L. plantarum strains, including the most studied strain WCFS1, that encode the tagD1-tagF1-tagF2 genes (tag-locus) were shown to consistently produce poly(Gro-P) WTA, while strains that lack these genes produce poly(Rbo-P) WTA[8]. The production of poly(Rbo-P) WTA in L. plantarum was proposed to depend on the tar locus (tarIJKL) that is universally conserved among L. plantarum strains[8] and was originally annotated as lp_1816-lp_1817-tagB1-tagB2 in the genome sequence of strain WCFS1[19]. Despite the fact that poly(Gro-P) WTA producing L. plantarum strains consistently encode both the tag and tar loci, and therefore possess the genetic capability to synthesize WTA with either backbone alditol, there have been no reports of strains that produce the Rbo-P or both WTA subtypes, indicating that the presence of the tag-locus exclusively dictates WTA production[8].
Following consumption, L. plantarum strains typically survive for several days in the human gastrointestinal tract[20] and adhere to human mucosa[21]. Specific strains of L. plantarum, have demonstrated health-promoting effects on the consumer[22]. For example, consumption of L. plantarum strain WCFS1 was shown to trigger mucosal gene expression patterns and cellular pathways that correlate with the establishment of immune tolerance in healthy adults[23]. The same study suggests that the molecular host responses towards L. plantarum WCFS1 in human intestinal mucosa depends on the cell-envelope composition of the culture administered[23]. Moreover, there is compelling evidence that specific Lactobacillus cell-wall components play a pivotal role in the interaction of probiotic lactobacilli with the immune system, e.g. specific tripeptides derived from peptidoglycan modulate immune responses via human NOD-like receptor 1 and 2 (NOD1 and NOD2,[3, 24–26]). Furthermore, TLR-2 in association with TLR-1 or TLR-6 plays an important role in the innate immune response by recognizing microbial lipoproteins and lipopeptides[26, 27]. To this end, LTA of several Lactobacillus species[28–30], including L. plantarum NCIMB8826 (of which strain WCFS1 is a single colony isolate)[31], was demonstrated to interact with Toll like receptor 2 (TLR-2,[3, 4, 26]). Moreover, purified LTA from L. plantarum WCFS1 was shown to elicit the production of the cytokine tumor necrosis factor alpha (TNF-α) in murine bone-marrow cells in a TLR-2 dependent manner, which is largely dependent on D-Ala substitution of the LTA backbone[31].
In contrast to LTA, the role of WTA in TLR-2-mediated immune signaling is debated[3, 32], especially as WTA is not acylated[5] which is considered an essential characteristic for LTA signaling[26]. Moreover, contamination of purified WTA fractions with other immunomodulating bacterial components may have blurred the assignment of the reported effects to WTA-mediated signaling. For example the WTA of L. casei Shirota has been proposed to act synergistically with LTA to induce IL-10 production through a TLR-2-dependent pathway[33], while genome comparisons of genetic loci involved in WTA biosynthesis suggest that L. casei strains cannot produce WTA[2]. Here, we aimed to clarify the role of WTA by addressing the following questions; is L. plantarum WCFS1 capable of switching its WTA backbone alditol? Can the immune system recognize L. plantarum poly(Gro-P) and/or poly(Rbo-P) WTA in addition to LTA?
The fact that some L. plantarum strains possess the genetic capacity to produce both WTA-backbone types, offers the possibility to study the physiological consequences and host-signaling induced by these WTA variants in an isogenic background. Therefore, we biochemically analyzed the modified WTA synthesized by L. plantarum WCFS1 mutants demonstrating that (i) a tagO deletion mutant is unable to produce WTA, (ii) a tagF1-2 deletion mutant produces WTA with a poly(Rbo-P) backbone instead of poly(Gro-P), and (iii) a dltX-D deletion mutant lacks D-Ala substitution of both LTA and WTA. Subsequently, DNA microarrays revealed the consequences of these modifications on bacterial physiology and the WTA biosynthetic pathways. To gain insight into the potential role of WTA and its modifications on host-immune interactions, the differential effect of the mutants and purified WTA derived from these mutants on cytokine production by human monocyte derived dendritic cells, as well as their innate signaling capacity via TLR-2/6 in a NF-κB reporter cell line, was investigated.
Discussion
Several L. plantarum strains encode the genetic determinants for the production of WTA variants containing either poly(Gro-P) or poly(Rbo-P) backbones[8], whereas other lactobacilli appear to exclusively produce the poly(Gro-P) variant or produce no WTA at all[2, 3]. LTA polymers consistently contain a glycerol backbone[29] that is synthesized via an independent pathway involving LtaS (LTA synthase)-dependent polymerization of phosphatidylglycerol, rather than the nucleotide-activated sugars utilized as precursors for WTA biosynthesis[5]. Moreover, LTA phosphatidylglycerol polymerization occurs directly onto a glycolipid that serves as the membrane anchor, rather than the undecaprenyl phosphate anchor employed in WTA biosynthesis[5, 18]. Indeed, we were able to show here that modification of WTA had no impact on the type of LTA backbone produced (GroP), and only slightly altered the chain length in the case of the tagF1-2 mutant. The independence of these biosynthetic pathways allowed investigation of WTA-specific alditol switching in an isogenic background in L. plantarum WCFS1, as well as the assessment of the overall effects thereof on bacterial physiology and the WTA biosynthetic routes using a transcriptomics approach. In view of the substantial transcriptome responses elicited by the mutations introduced, it may be that TA engineering has some general effects for cell wall architecture and turn-over that go beyond the specific components that were targeted by mutagenesis here. This may elicit some effects in terms of host cell recognition and/or response, but the data presented clearly establish that immunomodulatory effects observed in this study are not directly influenced by the WTAs.
The work presented here functionally demonstrates a role for the tar-locus (tarIJKL) in the production of poly(Rbo-P) WTA in L. plantarum. Moreover, the DNA microarray experiments performed with L. plantarum WCFS1 and its derivatives producing alternative WTA variants indicate that ribose and/or arabinose may serve as the preferred carbohydrate sources for the production of the precursors for this alternative WTA backbone. However, we have not been able to identify fermentation conditions that lead to the natural switching of the WTA backbone. Reports on other Gram-positive bacteria such as B. subtilis and S. aureus describe the production of strain-specific WTA backbone alditols[5], as well as an S. aureus strain producing both poly(Gro-P) and poly(Rbo-P) WTA types simultaneously[42]. However, to the best of our knowledge, this is the first report presenting the genetic and functional capability of WTA alditol-backbone switching. Moreover, it also is the first study that analyzes the biosynthetic WTA pathway(s) in a probiotic species and evaluates the consequences for modulation of host immune cells and innate, TLR-2/6-mediated signaling.
A comparative in silico analysis of the poly(Gro-P) and poly(Rbo-P) associated WTA genes in the B. subtilis strains W23 and 168, respectively, suggests that at least some of the genes encoding poly(Gro-P) synthesis in strain 168 were acquired by horizontal gene transfer, possibly displacing all, or part of, the resident W23-like poly(Rbo-P) WTA biosynthesis genes[9]. Our in silico analysis suggested that a similar horizontal gene transfer event may have occurred in L. plantarum, whereby the genes involved in poly(Gro-P) WTA biosynthesis were acquired in an ancestral, poly(Rbo-P) WTA producing strain, while leaving the capacity to produce this native WTA variant intact. However, phylogenetic analysis of 18 L. plantarum strains revealed that the tarIJKL locus cluster in two groups correlating completely with the WTA backbone-type produced[8]. As it seems unlikely that the genes involved in poly(Rbo-P) WTA biosynthesis have co-evolved in strains producing poly(Gro-P) WTA, the exact order of evolutionary events remains unknown. Nevertheless, these events have led to a subset of L. plantarum strains that have the genetic potential to alternate their WTA biochemistry, which supports earlier suggestions that this canonical compound might play an important role in the lifestyle of this bacterium and may have a profound impact on its molecular communication with mucosal cells in the intestinal tract, i.e. its probiotic efficacy[2]. The observation that more poly(Gro-P) WTA is produced than poly(Rbo-P) WTA might present another possible explanation for the alditol switching, i.e. to produce higher quantities of this cell wall polymer under certain (yet unknown) stress conditions, possibly including adaptation to the host intestinal environment. To this end, it might also be interesting to investigate WTA alditol backbone switching by introducing the tag locus into strains producing Rbo-P type WTA.
The ability of peptidoglycan and other non-acylated cell wall components to induce TLR-2 signaling is controversial[43, 44], and some studies have highlighted contamination with lipoproteins as a confounding factor[45]. Notably, these studies typically investigated immunomodulation by analyzing purified components of the cell envelope, ignoring shielding effects[46] as well as the interplay between different components, which is highly likely to blur our view of the full immunomodulatory capacity of intact bacterial cells possessing their native extracellular architecture and composition. Therefore, we assessed the differential immune responses triggered by exposure to L. plantarum TA mutants and/or purified WTA, thereby conclusively showing that purified L. plantarum WTA of either backbone alditol type is unable to directly signal via TLR-2/6. Nevertheless, the WTA negative derivative displayed enhanced TLR-2/6 signaling, suggesting that WTA shields or prevents release of other immunomodulating compounds, such as LTA, a known agonist of TLR2/6, and thereby indirectly contributes to attenuation of TLR-2/6 signaling. In addition, our observation that deletion of the genes required for D-alanylation of TA specifically reduces TLR-2/6 signaling, strongly suggests the TLR-2/6 heterodimer is involved in L. plantarum LTA signaling, in line with earlier experiments performed with Gram-positive pathogens[47, 48]. Hence, our data fine-tune earlier murine-based observations revealing that L. plantarum LTA signaling is TLR-2-dependent[31], to the exact human TLR heterodimer involved. Notably, the dltX-D mutant reported here produced LTA of a backbone chain length highly comparable to L. plantarum WCFS1, whereas the previously constructed dltB mutant mainly produced LTA that was approximately 3 times longer than that produced by the wild-type[38]. Although the reason for this apparent discrepancy is currently unknown, it may be explained by the different nature of the genetic mutation introduced in these strains. While the mutant presented in this study lacks the entire gene cluster encoding the Dlt machinery, the mutant described by Palumbo et al.. carries a mutation only in the dltB gene. As a consequence, the remaining Dlt functions are likely still expressed in the latter mutant, which may influence the chain length determination of LTA, possibly by binding of Dlt components to the emerging LTA polymer. On the other hand, our results using the dltX-D mutant do corroborate a recent report that deletion of a phosphoglycerol transferase gene (ltaS), that plays a key role in LTA biosynthesis, in Lactobacillus acidophilus NCFM down-regulated IL-12 and TNF-α production in DCs in a TLR-2-dependent manner[30]. Conversely, the fact that the enhanced TLR-2/6 signaling of the tagO mutant observed in the HEK-reporter cell line that only expresses TLR-2/6 did not translate to elevated IL-12 and TNF-α levels in DCs equipped with the full arsenal of receptors, but in fact resulted in decreased levels of these cytokines, strengthens the concept that communication between probiotic lactobacilli and intestinal host cells is multi-factorial and involves an integrative repertoire of receptors on the host side that recognize multiple effector molecules on the bacterial side[49]. It remains to be established whether WTA is directly involved in signaling via other host receptors or, alternatively, shielding of immunomodulating compounds that signal via other receptors.
Conclusions
The data presented here has several consequences for research addressing molecular host-probiotic communication. The observation that the pro-inflammatory capacity (IL-12 levels) of L. plantarum WCFS1 depends on the amount and alditol backbone variant of WTA synthesized, implies that the extrapolation of data obtained from in vitro immunological assays to the in situ situation in the gastrointestinal tract is certainly not trivial. To this end, the relative level of production of WTA may be altered in situ, as has been shown for S. aureus when it resides in the nasal cavity of rats[50], but also here by the observation that WTA backbone switching results in differential levels of WTA produced (Table1). Moreover, not all Lactobacillus species have the capacity to produce WTA, or may alter either WTA backbone type or WTA production levels under certain conditions[2, 3], which could severely impact on their signaling capacity as compared to strains that do produce this molecule. The biochemical characteristics of TAs, such as polymer length and its exact composition, including the degree of D-Ala and glycosyl substitution, may fine-tune the immune signaling effects described here. In this respect, it is intriguing that Marco and coworkers have reported the significant down-regulation of the dltX-D operon during passage of L. plantarum through the murine gastrointestinal tract[51]. Overall, the flexibility of bacteria to produce different (ratios of) TAs that have alternative biochemical characteristics (backbone and/or substitutions) under different environmental conditions is bound to impact on their host-communication capacities in vivo[50, 51]. Moreover, inter-strain differences in the production of specific TA molecules provide a plausible explanation for the remarkable strain-specificity observed in immune assays[52, 53]. Taken together, this study correlates structural differences in TAs to their functional characteristics and provides important information to improve our understanding of molecular host-microbe interactions and probiotic functionality.
Declarations
Acknowledgements
We cordially thank Nico Taverne and Roger Bongers for technical assistance with the immunological assays and the DNA microarray experiments, respectively. We acknowledge the role of our project leader Dr. Paul de Vos (University Medical Centre Groningen, The Netherlands) and Dr. Eiichi Satoh (Tokyo University of Agriculture, Japan) in coordinating and facilitating the work performed.
Author details
1TI Food & Nutrition, Nieuwe Kanaal 9A, 6709PA, Wageningen, The Netherlands. 2NIZO Food Research, Kernhemseweg 2, 6718ZB, Ede, The Netherlands. 3Kluyver Centre for Genomics of Industrial Fermentation, Julianalaan 67, 2628 BC, Delft, The Netherlands. 4Department of Applied Biology and Chemistry, Faculty of Applied Bio-Science, Tokyo University of Agriculture, 1-1-1 Sakuragaoka, Setagaya-ku, Tokyo 156-8502, Japan.5Host-Microbe Interactomics, Wageningen University, Marijkeweg 40, 6709 PG, Wageningen, The Netherlands. 6Netherlands Consortium for Systems Biology, Science Park 904, 1098 XH, Amsterdam, The Netherlands.7Laboratory for Microbiology, Wageningen University, Dreijenplein 10, 6703 HB, Wageningen, The Netherlands.
Authors' Affiliations
(1)
TI Food & Nutrition, Wageningen, The Netherlands
(2)
NIZO Food Research, Ede, The Netherlands
(3)
Kluyver Centre for Genomics of Industrial Fermentation, Delft, The Netherlands
(4)
Department of Applied Biology and Chemistry, Faculty of Applied Bio-Science, Tokyo University of Agriculture, Setagaya-ku, Tokyo, Japan
(5)
Host-Microbe Interactomics, Wageningen University, Wageningen, The Netherlands
(6)
Netherlands Consortium for Systems Biology, AmsterdamThe Netherlands
(7)
Laboratory for Microbiology, Wageningen University, Wageningen, The Netherlands
Copyright
© Bron et al.; licensee BioMed Central Ltd. 2012
This article is published under license to BioMed Central Ltd. This is an Open Access article distributed under the terms of the Creative Commons Attribution License (http://creativecommons.org/licenses/by/2.0), which permits unrestricted use, distribution, and reproduction in any medium, provided the original work is properly cited.